New Reads weekly
From the #SWBlog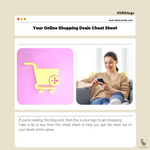 If you're big on online shopping and package deliveries make your entire day, we totally get you. Tapping on the add-to-cart and checkout buttons gives an exciting high: it's about treating yourself after a hard day's or month's (or even MORE) worth of work. Knowing you deserve it makes the feeling even more exhilarating. 
Knowing YOU DESERVE IT also means you have to MAKE THE MOST OF IT. When it comes to deals, you know SilverWorks has got you. And, when it comes to deal hunting, we also got you. Here's a cheat sheet to help you shop till you drop without breaking the bank. 
Free Shipping
on orders worth P1,000 and above!
Satisfaction Guaranteed
We know a simple truth: our business depends on return customers, not the one-time purchase.
Safe & Secure Transaction
Shop online securely with our Verified Payment Partners.
Customer Support
Our Customer Service Team is here to help you! Call +632 8634 0096 or email us at support@silverworks.com
Free Shipping

on orders worth P1,000 and above!

Satisfaction Guaranteed

We know a simple truth: our business depends on return customers, not the one-time purchase.

Safe & Secure Transaction

Shop online securely with our Verified Payment Partners.

Customer Support

Our Customer Service Team is here to help you! Call +632 8634 0096 or email us at support@silverworks.com
SPARK OF HOPE
Urban Farmers of Bel-Air
--- NCR ---
SM MEGAMALL
LG FLOOR, SM MEGAMALL, EPIFANIO DELOS SANTOS AVENUE, CORNER DOÑA JULIA VARGAS AVE, MANDALUYONG, METRO MANILA
Open from Mon- Sun, 10AM- 10PM
M: 0
9156881110
/ 09209031095
T: (02) 8631 0819
SM MALL OF ASIA
G/F, SM MALL OF ASIA, 1 J.W. DIOKNO BLVD, PASAY, METRO MANILA
Open from Mon-Fri 11AM- 9PM, Sat-Sun 10AM- 10PM
M: 0
9756371035
/
09209031139
T: (02) 8556 0156
GLORIETTA MAKATI
G/F, GLORIETTA 1, AYALA AVE, MAKATI, METRO MANILA
Open from Mon-Fri 11AM- 10PM, Sat-Sun 10AM- 10PM
M: 0
9153044636
/
09209031139
T: (02) 7625 3733
SM NORTH EDSA – KIOSK
2ND FLOOR, SM CITY NORTH EDSA MAIN BLDG., BAGONG PAGAS 1, QUEZON CITY, METRO MANILA
Open from Mon- Sun, 10AM- 9PM
M: 09236483174/ 
09209031095
SM NORTH EDSA – STORE
LG/F, SM CITY NORTH EDSA MAIN BLDG., BAGONG PAGAS 1, QUEZON CITY, METRO MANILA
Open from Mon- Sun, 10AM- 9PM
M: 09606891159/ 
09209031095 
TRINOMA – STORE
2ND FLOOR, TRINOMA, EDSA CORNER NORTH AVENUE, QUEZON CITY, METRO MANILA
Open from Mon- Sun, 10AM- 9PM
M:
0
9981853517/ 
09209031095
ROBINSONS ERMITA
2ND FLOOR, PEDRO GIL ST, ERMITA, MANILA, 1000 METRO MANILA
Open from Mon- Sun, 10AM- 9PM
M: 09558930490/ 
09209031139
T: (02) 8536 7985
3RD FLOOR, SM MANILA CONCEPCION COR.ARROCEROS &, SAN MARCELINO ST, ERMITA, MANILA, METRO MANILA
Open from Mon-Fri 11AM- 9PM, Sat-Sun 10AM- 10PM
M: 0
9759918942/ 
09209031139
T: (02) 8400 6342
FISHER MALL
UG/F, FISHER MALL, 42 GEN LIM ST, STA CRUZ, QUEZON CITY, METRO MANILA
Open from Mon- Sun, 10AM- 9PM
M: 0
9392406289/ 
09209031139
T: (02) 8514 0078
MARKET-MARKET (STORE)
4TH FLOOR, MARKET! MARKET! BONIFACIO GLOBAL CITY, TAGUIG METRO MANILA
Open from Mon-Sun, 11AM- 8PM
M: 
09562951161
/ 
09209031139
G/F MARKET-MARKET, TAGUIG, METRO MANILA
Open from Mon-Fri 11AM- 9PM, Sat-Sun 10AM- 10PM
M:
0
9304400581/ 
09209031139
SM SAN LAZARO
LG/F , SM CITY SAN LAZARO , FELIX HUERTAS, CORNER 1205 LACSON AVE, SANTA CRUZ, MANILA, METRO MANILA
Open from Mon-Fri 11AM- 9PM, Sat-Sun 10AM- 10PM
M: 
0945-680-4791/
09209031139
SM TAYTAY
BLDG. A  2ND FLOOR, SM CITY TAYTAY, MANILA E RD, TAYTAY, METRO MANILA
Open from Mon-Sun, 10AM- 9PM
M: 0
9335749596/ 
09209031095
T: (02) 8571 0077
STA. LUCIA MALL
2ND FLOOR, STA. LUCIA EAST GRANDMALL, MARCOS HIGHWAY COR. FELIX AVENUE CAINTA RIZAL, METRO MANILA
Open from Mon-Sun, 10AM- 7PM
M: 0
9304512668/ 
09209031095
SM MASINAG
G/F, SM MASINAG MARIKINA-INFANTA HWY, MASINAG, ANTIPOLO, RIZAL
Open from Mon-Sun, 10AM- 9PM
M: 0
9503619312/ 9982970335/ 
09209031095
SM SAN JOSE DEL MONTE
G/F, SM SAN JOSE DEL MONTE QUIRINO ST, SAN JOSE DEL MONTE CITY, BULACAN
Open from Mon-Sun, 10AM- 9PM
M: 0
9102913356/ 
09209031095
SM NOVALICHES
G/F, SM CITY NOVALICHES, QUIRINO HIGHWAY, NOVALICHES, QUEZON CITY, METRO MANILA
Open from Mon-Sun, 10AM- 9PM
M: 0
9484912767/ 
09209031095
T: (02) 8442 5897
ROBINSONS GALLERIA
3RD FLOOR, ROBINSONS GALLERIA ORTIGAS AVE, ORTIGAS CENTER, QUEZON CITY, METRO MANILA
Open from Mon-Sun, 10AM- 9PM
M: 
09389910112/ 
09209031095
T: (02) 8632 7386
SM FAIRVIEW (STORE)
LG/F, ANNEX1 SM FAIRVIEW QUIRINO HIGHWAY, CORNER REGALADO HWY, QUEZON CITY, METRO MANILA
Open from Mon-Sun, 10AM- 9PM
M: 0
9308227731/ 
09209031095
T: (02) 8938 6071
SM ANGONO
UPPER G/F SM ANGONO MANILA EAST ROAD, COR M.L. QUEZON ST, ANGONO, RIZAL
Open from Mon-Sun, 10AM- 9PM
M: 0
9659030037/ 
09209031095
T: (02) 8631 4629
SM MARIKINA
GROUND FLOOR  SM MARIKINA, MARIKINA-INFANTA HWY, MARIKINA METRO MANILA
Open from Mon-Sun, 10AM- 9PM
M: 0
9279511896/ 
09209031095
T: (02) 8477 1946
SM SUCAT
LOWER G/F DOCTOR ARCADIO SANTOS AVENUE, CORNER CARLOS P. GARCIA AVE EXT, PARAÑAQUE, METRO MANILA
Open from Mon-Sun, 10AM- 9PM
M: 0
9279511896/ 
09209031062
T: (02) 8808-0685
AYALA ALABANG TOWN CENTER
G/F ALABANG TOWN CENTER, ACCESS ROAD, AYALA ALABANG, MUNTINLUPA, METRO MANILA
Open from Mon-Fri 11AM- 7PM, Sat-Sun 11AM- 8PM
M: 0
9150348242/ 
09209031062
FILINVEST MALL
U​PPER GROUND FLOOR FESTIVAL SUPERMALL, ALABANG MUNTINLUPA CITY
Open from Mon-Sun, 10AM- 9PM
M:
09196107319/ 
09209031062
T: (02) 8810 2845
SM BICUTAN
UPPER GROUNDFLOOR, SM BICUTAN, 1700 DOÑA SOLEDAD AVE, PARAÑAQUE, METRO MANILA
Open from Mon-Sun, 10AM- 9PM
M: 09209031062
T: (02) 8822 9034 
--- SOUTH LUZON ---
SM SOUTH MALL
LOWER G/F SM CITY SOUTHMALL, ALABANG–ZAPOTE ROAD, LAS PINAS
Open from Mon-Sun, 11AM- 9PM
M: 0
9484806997/ 0
9209031062
T: (02) 8363-2231
SM STA. ROSA
G/F SM STA.ROSA, OLD NATIONAL HIGHWAY, BRGY, SANTA ROSA, LAGUNA
Open from Mon-Sun, 10AM- 7PM
M: 0
9616339799/ 0
9209031062
T:  (049) 534 2633
SM DASMARIÑAS
G/F SM DASMARIÑAS4114 GOVERNOR'S DR, BRGY SAMPALOK 1, DASMARIÑAS, CAVITE
Open from Mon-Sun, 11AM- 7PM
M: 0
9487259779/ 
09209031062
T: (046) 432 3053
SM BACOOR
UG/F SM BACOOR, BRGY, GEN. EMILIO AGUINALDO HIGHWAY, COR TIRONA HWY, BACOOR, CAVITE
Open from Mon-Sun, 11AM- 7PM
M: 0
9489214023/ 
0
9633595569/ 
09209031062
SM NAGA
G/F SM NAGA, CENTRAL BUSINESS DISTRICT II BRGY TRIANGULO, NAGA, CAMARINES SUR
Open from Mon-Sun, 10AM- 7PM
M: 0
9381850374/ 
09209031062
T: (054) 871 0042
SM SAN PABLO
GROUND FLOOR  SM SAN PABLO, NATIONAL HIGHWAY, SAN PABLO CITY, LAGUNA
Open from Mon-Sun, 10AM- 7PM
M: 0
9977494181/
09209031062
SM BATANGAS
G/F SM CITY BATANGAS, PASTOR VILLAGE, BRGY, BATANGAS, BATANGAS
Open from Mon-Sun, 10AM- 9PM
M: 0
9683820020/ 
09209031062
SM LIPA
2ND FLOOR SM LIPA, 4, LIPA, BATANGAS
Open from Mon-Sun, 10AM- 9PM
M: 0
9633302377/ 
09209031062
T: (043) 784 0294
SM LUCENA
G/F SM LUCENA, MAHARLIKA HIGHWAY COR DALAHICAN ROAD IBABANG DUPAY, LUCENA CITY, QUEZON, LUCENA, QUEZON PROVINCE
Open from Mon-Sun, 10AM- 9PM
M: 0
9293173267/ 
09209031062
T: (042) 710 3344
--- NORTH LUZON ---
SM BALIWAG
G/F SM BALIWAG, 21 DOÑA REMEDIOS TRINIDAD HWY, BALIUAG, BULACAN
Open from Mon- Sun, 10AM- 8PM
M: 0
9650694416/ 
09209031043
AYALA HARBOR POINT
G/F SUBIC BAY TOW, RIZAL HWY, SUBIC BAY FREEPORT ZONE, ZAMBALES
Open from Mon- Sun, 10AM- 8PM
M: 0
9129922752/ 
09209031043
SM MARILAO
G/F SM MARILAO, 2, MARILAO, BULACAN
Open from Mon- Sun, 10AM- 9PM
M: 0
9260558587/ 
09209031043
SM CABANATUAN
UPPER G/F SM CABANATUAN BRGY. H. CONCEPCION, ALONG, 1, CABANATUAN, NUEVA ECIJA
Open from Mon- Sun, 10AM- 9PM
M: 0
9150651950/ 
09209031043
ROBINSONS STARMILLS
G/F ROBINSONS STARMILLS, SAN FERNANDO, PAMPANGA
Open from Mon- Sun, 10AM- 9PM
M: 0
9977001682/ 
09209031043
SM CLARK
G/F SM CLARK, MANUEL A. ROXAS HWY, CLARK FREEPORT, ANGELES, PAMPANGA
Open from Mon- Sun, 10AM- 9PM
M: 0
9480626584/ 
09209031043
T: (045) 499 0143
SM PAMPANGA
G/F SM PAMPANGA, SAN JOSE RD, SAN FERNANDO, PAMPANGA
Open from Mon- Sun, 10AM- 9PM
M: 0
9087019529/ 
09209031043
--- VISMIN --- 
SM CEBU
SM CEBU, JUAN LUNA AVENUE, CEBU CITY, CEBU
Open from Mon- Sun, 10AM- 9PM
M: 0
9436599136/ 09504762307
AYALA CEBU
UG/F AYALACEBU, CARDINAL ROSALES AVENUE, ARCHBISHOP REYES AVE, CEBU CITY, CEBU
Open from Mon- Sun, 10AM- 9PM
M:
09121383799/ 09097324488/ 09504762307
SM DAVAO
SM DAVAO, QUIMPO BLVD COR. TULIP AND ECOLAND DRIVE ECOLAND SUBD, MATINA PANGI RD, DAVAO CITY, DAVAO DEL SUR
Open from Mon- Sun, 10AM- 9PM
M: 0
9487689098/ 09223860877/ 09127847937
LIMKETKAI CENTER
1ST FLOOR, LIMKETKAI CENTER, LIMKETKAI DR, CAGAYAN DE ORO, MISAMIS ORIENTAL
Open from Mon- Sun, 9AM- 8PM
M: 0
9682048225/ 09127847937
AYALA CENTRIO
2ND FLOOR, AYALA CENTRIO MALL, CLARO M. RECTO AVENUE, CORNER CORRALES AVE, CAGAYAN DE ORO, MISAMIS ORIENTAL
Open from Mon- Sun, 10AM- 8PM
SM CDO DOWNTOWN PREMIER
3RD FLOOR, SM CDO DOWNTOWN PREMIER, CLARO M. RECTO AVE, CAGAYAN DE ORO, MISAMIS ORIENTAL
Open from Mon- Sun, 10AM- 9PM
M: 0
9505040398/ 
0
9127847937
SM GENERAL SANTOS
G/F, SM GENERAL SANTOS,COR. SANTIAGO BLVD. AND, SAN MIGUEL ST, GENERAL SANTOS CITY,  SOUTH COTABATO
Open from Mon- Sun, 10AM- 9PM
M: 0
9317831876/ 
0
9127847937
T: (083) 877 0015
SM ILOILO
UG/F, SM CITY ILOILO, BENIGNO AQUINO AVE, MANDURRIAO, ILOILO CITY, ILOILO
Open from Mon- Sun, 10AM- 9PM
M: 0
9504302454/ 
0
9504762307
SM BACOLOD
EAST BRIDGE WAY, SM CITY BACOLOD, RIZAL ST, RECLAMATION AREA, BACOLOD, NEGROS OCCIDENTAL
Open from Mon- Sun, 10AM- 9PM
M: 0
9309926368/ 
0
9504762307