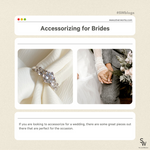 Wedding season is here! If you are looking to accessorize for a wedding, there are some great pieces out there that are perfect for the occasion. Whether you are planning to wear an elaborate gown, a minimalist dress, or a bridal suit, you can find a piece that fits your style and budget. In this article, we'll look at some great ideas on how to accessorize for your big day.
Tips For Brides
For many women, getting married is one of the most significant events of their lives. All the details are essential—from the wedding venue, to the wedding dress, and to the overall bridal look. It's no surprise then that brides want the perfect accessories to help complete their wedding ensemble. For a bride, her accessories are the finishing touches to her wedding gown, and without them, she may feel underdressed or less than stunning on her big day. So if you're a bride looking to accessorize your look, check out our tips & recommendations below:
Less is more.
As a basic rule, go for a clean and balanced look rather than trying to impress with lots and lots of sparkly jewelry. Your dress should be the focal point of your look, so your accessories should serve to complement it. Choose a classic-looking pair of earrings or a simple necklace that compliments your dress perfectly. We recommend the following for simple and understated bridal looks:
SHOP HERE
SHOP HERE
SHOP HERE
Match the color of your dress with your jewelry.
Color is another key factor to consider when selecting accessories for your bridal outfit. Bright/pure white ensembles pair perfectly with silver and platinum metals, while ivory looks good with gold pieces. Pick from these gorgeous accessories depending on the color of your outfit. 
SHOP HERE
SHOP HERE
Think of your something blue.
It's totally up to you, but some brides choose to follow old-world traditions by wearing something old, new, borrowed, and blue as they walk down the aisle. A piece of jewelry can be used as your "something blue," and depending on your personal style, you may pick a brighter or more subtle pop of blue.  
SHOP HERE
SHOP HERE
As a final word, we recommend that you trust your instincts, choose something you like, and wear what makes you feel more confident and beautiful on your big day. After all, your style should be personal, an extension of who you are. 
Check out our accessories https://www.silverworks.com/ today and find something that's uniquely yours!