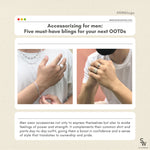 ACCESSORIZING FOR MEN: FIVE MUST-HAVE BLINGS FOR YOUR NEXT OOTDs
Men's fashion has significantly evolved alongside women's, and with men's styling thriving exponentially as the times and trends change, it has become a conscious choice and need for men to express themselves through clothing and accessories.
Men wear accessories not only to express themselves but also to evoke feelings of power and strength. It complements their common shirt and pants day-to-day outfit, giving them a boost in confidence and a sense of style that translates to ownership and pride.
Blings could make a man's outfit, and for your Outfit Of The Day (OOTD), the right accessories can help you achieve that classy, smart, and smooth look.
Here are the five must-have blings for your next OOTDS: 
If you're opting for something simple and subtle, our  28" Thick Curb 
Link Necklace is your top option. It is polished and non-tarnish so it gives that unique, lasting sparkle to match your look!
If you're feeling adventurous and expressive with your OOTD, then the Ilor Silver Tribal Design Silver Ring is what you need. It's hypoallergenic and oxidized so you can wear it day in and day out!
If you feel like your OOTD needs a little bit of a signature statement that you can call your own, then this Small Dog Tag Necklace that you can engrave your name on is perfect for you. It's rust-proof, just the way you want your signature style to be!
Aiming to achieve that signature, sophisticated style for your OOTD? Our Chain Bracelet with Engravable ID Bar can do that for you. Plus you can personalize it anyway you want to!
Opting for a classy look with a pop of color? Try our Thick Colored Class Rings made of 925 Sterling Silver and AAA Cubic Zirconia stone that will surely complete your OOTD. 
If true style makes men admirable, they should not settle for anything less than accessories that make their OOTDs expressive and impressive, memorable and unique. 
Grab these must-have blings for your next OOTDS today and see the difference it can make!