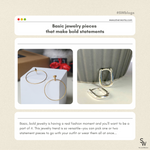 BASIC JEWELRY PIECES THAT MAKE BOLD STATEMENTS
Basic, bold jewelry is having a real fashion moment and you'll want to be a part of it. This jewelry trend is so versatile—you can pick one or two statement pieces to go with your outfit or wear them all at once (there are no hard rules!) Whatever you choose, you're sure to make a big style statement with simple yet beautifully constructed jewelry. 
Here are basic stylish pieces you can easily incorporate into your wardrobe STAT. These can be staple work-appropriate accessories, but you can pair them with other pieces (like a cute pair of heels or a bold purse) for date night or an intimate dinner with friends. Planning to stay at home? You can still look sleek and uber fashionable for your socially distant get-togethers with these versatile pieces. And the next time you attend a work meeting, why not throw on some bold jewelry for a more polished stylish look?
EARRINGS
These SilverWorks' Square Hoop Earrings are a minimalist fashion must-have.
These Mora Hoop Earrings from our Mio Mio Collection add a bold, playful touch to your wardrobe.
BRACELETS
This Oval Bangle from our Mio Mio Collection can instantly elevate even the simplest of looks.
This Forzatina Bracelet from our Mio Mio Collection can be worn on its own or layered for more impact.
NECKLACES
This Layered Necklace from our Mio Mio Collection is a fun and stylish addition to any outfit.
This Gold-plated Square Tag Necklace from our Mio Mio Collection is an on-trend choice for the Style Savvy.
RINGS
This Polished Ring from our Mio Mio Collection is simple yet elegant with its 18K gold screw.  
Minimalist in design, this Tungsten Band has beveled edges. 
Ready to try the bold, minimalist aesthetic? Be sure to check out SilverWorks' available pieces and make room in your jewelry collection