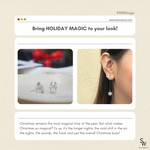 BRING HOLIDAY MAGIC TO YOUR LOOK
Christmas remains the most magical time of the year. But what makes Christmas so magical? To us, it's the longer nights, the cold chill in the air, the sights, the sounds, the food, and just the overall Christmas buzz! 
Celebrate the magical feel of the holidays by adding shine and sparkle to your look! These pieces from our Happy Ever After Collection are sure to enliven each moment spent with loved ones. These silver pieces are also perfect for gifting kids and kids at heart. After all, magic is for everyone! 
Disney® Malik Dancing Gem Sven Stud Earrings
Dancing gemstone jewelry instantly adds a touch of magic and whimsy to any outfit. It looks eye-catching too as the center stone swings, sparkles, and dances with your every move! The Malik dancing gem Sven stud earrings feature clear cubic zirconia stones and polished sterling silver.
Disney® Princess Aurora Crown Stud Earrings
Awaken to the magic of Christmas with these dazzling Aurora earrings. The red cubic zirconia matches the holiday motif and will surely spruce up your look. This piece is simple but elegant.
Disney® Mulan Rosegold Flower Jewelry Set
This Mulan jewelry set features a lotus flower design, AAA+ Cubic Zirconia, and 16" Rolo Chain. With its blush radiance, the rose gold plating makes this set a subtle and romantic choice for the holidays. 
Disney® Marley Classic Snowflakes Threaded Earrings
You will look and feel holiday & party-ready with the Marley earrings. Pair these with a velvet or sequin dress for extra shimmer and glam. If you're going for a more understated look, you can wear these with leggings, a chic turtleneck, and a pair of booties.
Disney® Mulan Spinning Flower with Zirconia Earrings and Necklace Set
You'll be as cute as a flower with the Mulan earrings and necklace. The center flower literally spins beautifully to add shine to your look. Jewelry sets like this one are also perfect for gifting or as stocking stuffers. 
Disney® Hideko Spinning Stellar Snowflakes Pendant in Fine Box Chain Necklace
The holidays call for fun, exciting, and extra unique fashion choices. The Hideko features a fine box chain necklace, but the real star of the show is the spinning snowflake pendant with cubic zirconia. Watch the snowflake spin and make a wish. This is a stellar piece that will have everyone ooh-ing and aah-ing.
So come on and get your holiday magic on with SilverWorks' Happy Ever After Collection! These silver pieces not only sparkle beautifully against the light, but they also bring to life the magic and wonder of Christmas.  
Click on https://www.silverworks.com/collections/happy-ever-after-collection to see the entire collection and shop yours today!