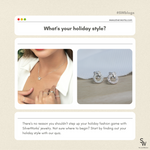 WHAT'S YOUR HOLIDAY STYLE?
You've had a headstart on your Christmas shopping, started making holiday plans, and perhaps even began to decorate your home to feel the holiday spirit. There's nothing quite as fun as prepping for the holidays, right? But with so many things to plan for, piecing together the perfect holiday outfit can be challenging.  
Whether you're into velvet, sparkles, prints, or like to keep things more classic, there's no reason you shouldn't step up your holiday fashion game with SilverWorks' jewelry. Not sure where to begin? Start by finding out your holiday style with our quiz.
Question #1: How do you usually wrap your gifts?
A: with themed wrapping paper, ribbons, and a gift card
B: with colorful or printed wrapping paper, ribbons, a gift card, and a bow on top
C: with a cute box and some wrapping tissue  
D: with craft paper and twine 
Question #2: What is your fave holiday drink?
A: hot chocolate
B: Jell-O shots
C: champagne cocktails 
D: toffee nut latte
Question #3: Pick your choice of holiday delicacy.
A: bibingka/puto bumbong
B: fruitcake
C: porchetta
D: roasted meat and potatoes
Question #4: Decorating for the holidays means:
A: garlands, wreaths, and a festive Christmas tree
B: an inflatable T-rex Santa on the lawn
C: a minimalist tree with simple ornaments
D: real poinsettia blooms and dried wreaths
Question #5: How would you like to spend Christmas eve?
A: attend mass with the family before enjoying our Christmas dinner
B: go to a theme park and watch the fireworks at midnight
C: have dinner with some holiday music in the background
D: throw a small party for family members
Question #6: What is the one thing you don't leave home without?
A: my purse
B: my lipgloss
C: my watch
D: my vegan leather wallet
Question #7: What is your go-to holiday makeup look?
A: some warm blush, neutral eyeshadow, and matching neutral lips
B: red lips, some sparkly eyeshadow, and my favorite pair of falsies
C: concealer where I need it, blush, and a moisturizing lip color
D: my trusty mineral makeup (for my base, lips, and cheeks)
Question #8: What is the ideal gift for you?
A: a book from my fave author
B: pom pom slippers
C: nicely scented candles
D: anything handmade
Question #9: Pick your choice of holiday PJs:
A: a silky nightgown
B: a long sleep tee featuring cats with Santa hats
C: a button-down nightshirt with matching pajamas
D: cozy plaid flannels
Question #10: If you could be anywhere at Christmas time, where would you be?
A: at my grandparents' home, exchanging gifts with loved ones
B: in the city, celebrating my heart out
C: at home, enjoying the food and watching Christmas movies
D: outdoors, possibly even the beach!
Now add up your score! Did you choose:
Mostly As, Mostly Bs, Mostly Cs, or Mostly Ds?

What your score says about your holiday style + our jewelry recos 
Mostly As: CLASSIC & TIMELESS
You love the classic, timeless approach. You go for styles that are typically simple and traditional, yet elegant and elevated. When it comes to celebrating holidays, you pick items that lend a festive feel--think bows, garlands, Christmas wreaths, anything that speaks Classic Christmas. Wear these Christmas wreath studs and serve the perfect classic holiday look.   
Shop the Mayra Christmas Wreath Silver Stud Earrings
Mostly Bs: COLORFUL & QUIRKY
Cheerful, cutesy, and gimmicky, your style is all about having fun and playing around with different colors, designs, and textures. You are totally creative and love to embrace your own unique style. We recommend these dancing gem Sven Stud earrings that are sure to express your fun-loving, carefree self.
Shop the Disney® Malik Dancing Gem Sven Stud Earrings
Mostly Cs: FRESH & CONTEMPORARY
Your keywords are muted, clean, and luxe minimalism. You still embrace Christmas traditions, but you never go over the top. Your style is clean, universally appealing, but not overly embellished. These deer stud earrings will pair well with your contemporary holiday look.
Shop the Malvie Silver Deer Stud Earrings 
Mostly Ds: RUSTIC & NATURAL
Your innate style can be described as casual and natural, and your color palette is typically composed of neutrals like brown, grey, and white. You're all for festive holiday flair, but you like to keep your style choices rustic and within the boho-chic aesthetic. Accessorize with this Vintage Wing Multilayered Bracelet and let your natural self shine through! 
Shop the Vintage Wing Multilayered Bracelet
If there is any season in the year to look your best, it's the holidays. Be sure to check out our recos, and as always, have fun with fashion!