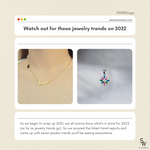 2022 JEWELRY TRENDS TO WATCH OUT FOR
As we begin to wrap up 2021, we all wanna know what's in store for 2022 (as far as jewelry trends go). So we scoured the latest trend reports and came up with seven jewelry trends you'll be seeing everywhere. Ready to prep your jewelry wardrobe for next year?    
Keep scrolling for the nine jewelry trends you must know for 2022.
Nameplate Necklaces
The personalization trend continues to be hot. After all, personalized jewelry is one-of-a-kind and even makes a sentimental gift for anyone. Be sure to rock this trend with SilverWorks' Name Necklaces. Our silver Nameplate Necklaces come in different styles and are available in stainless steel and 925 sterling silver. Style yours up and choose between silver, gold, and rose gold.
Nameplate necklaces are stylish and beautiful on their own or layered for an extra punch! 
Shop these Name Necklaces 
Pearls
Pearls are a staple—on runways and IRL. They are classy and can effortlessly elevate any look. We also love that pearls can be worn anytime, any day, and on any occasion, making them truly versatile pieces. SilverWorks has a wide selection of pearl accessories to select from. 
Wear a full set of pearls—necklace, bracelet, earrings, or don one statement piece for more of a classy, minimalist vibe.
Shop these Pearl Jewelry Pieces
Color Party
Colored stones are making a comeback. Incorporate color into a completely tonal outfit or stack and layer pieces and colors. Playing up your wardrobe with colorful accessories will instantly brighten up your look. More is more is the key here! 
We love SilverWorks' vibrant, colorful pieces. Amp up your daily wardrobe by adding these pops of colors!  
Shop these Colorful Accessories
Statement Signet
Yes, the chunkier, the better in 2022. Signet rings are a hit with the Gen-Z crowd, but everyone can wear this stylish accessory. A signet ring is often worn as a standout piece due to its big and bold design. SilverWorks' Signet Rings are the perfect rings to engrave your initials, monograms, or memorable dates. It's entirely up to you how you want to personalize your statement ring.
Shop these Signet Rings
She Bang(les)
Bangles are all the rage! Bangles come in a versatile range of sizes, styles, and materials, so you can be sure to find a bangle to fit your style. Look for sterling silver bangles to get the best value for your money. 
SilverWorks' bangles will easily blend with your outfit because of their fun yet wearable styles. Stack multiple pieces at a go, or stick with less—your fashion, your rules.
Shop these Bangles
Slick Silver
Designers from the Spring 2022 Fashion Shows took a shine to silver, and we're TOTALLY living for it. Take your 2022 ensemble to the next level with SilverWorks' jewelry. Our silver pieces are made of hypoallergenic 925 Sterling Silver and come with FREE lifetime cleaning in any Silverworks Branch. 
SilverWorks is the leading retailer of sterling silver jewelry in the Philippines and offers high-quality, innovative sterling silver jewelry and accessories that are sure to last for years to come and not just 2022.
Shop SilverWorks' product collections
Zodiac Jewelry
Indulge your inner astrology geek in 2022 with Zodiac-themed jewelry. Zodiac necklaces/pendants are a hit because they are beautiful, personal, and whimsical all at once. 
SilverWorks has zodiac pendants that will let you express yourself even more. Each Zodiac has a different symbol, so find your sign and accessorize! 
Shop Zodiac jewelry
Finish the year strong and keep slaying in 2022! Shop our super trendy accessories today!