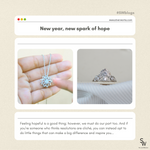 NEW YEAR, NEW SPARK OF HOPE
It gets more and more exciting as we head into a brand new year. If you're human, you've had your fair share of ups and downs in 2021, but now it's time to bask in the glow of a fresh start. 
Feeling hopeful is a good thing; however, we must do our part too. And if you're someone who thinks resolutions are cliché, you can instead opt to do little things that can make a big difference and inspire you to be a better you. Read on for simple ways to start the new year fresh!
Tidy up your space
Decluttering at home and organizing your space can help you become more productive and may boost your creative juice. A clean room can also uplift your mood and reduce stress and anxiety. You may also take this time to clean out your closet and sell or donate things that don't fit or suit your style anymore. You'll feel so much better after!
Start your mornings with a positive mindset
You can start with simple morning rituals to kick start the positive in you. The trick is to find what makes you happy in the morning and stick to it! Some people can have their own morning playlist, others like to begin their day with a workout, and others write in a journal. Do what fills your morning with positivity and hope for the day to come.
Try something new with your look
Break out of the rut and focus on self-improvement. By making small changes that make you look and feel better, you can feel more confident about yourself and more optimistic about what lies ahead.   
You can go for something new—update your hairstyle, get a new piercing, or upgrade your current jewelry stash. Speaking of jewelry, find what works for your style and budget with SilverWorks! 
Shop your new favorite jewelry
Just a few more days before we welcome 2022! We hope you welcome the new year with fresh hope and lots of fresh ideas! Take actions for a better change, a better life, and a better you.
HAPPY NEW YEAR!