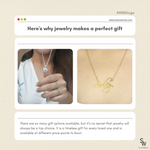 REASONS WHY JEWELRY MAKES A PERFECT GIFT
There are so many gift options available, but it's no secret that jewelry will always be a top choice. It is a timeless gift for every loved one and is available at different price points to boot. Still not convinced? We rounded up five compelling reasons why jewelry makes a perfect gift for any occasion.    
Reason #1: Jewelry has a "WOW" factor 
If you want to surprise someone, then jewelry will be your best bet. A beautiful piece of jewelry will always have that gasp factor, where people literally gasp in excitement. Jewelry will surely make someone happy, and that's because receiving jewelry is generally a nice treat. From fashionable earrings, sparkly bracelets, and chain necklaces to popular silver rings, charms, and pendants, jewelry is a gift that's genuinely bound to delight.
This Emerald and White Zirconia Heart Jewelry Set speaks for itself and will WOW your loved one. 
Reason #2: Jewelry is long-lasting  
With proper care and maintenance, jewelry can last for a very long time. Unlike flowers, sweets, or gift cards, jewelry can be worn and enjoyed for years to come. Thus, jewelry makes for a gift that's beautiful and practical at the same time. All silver jewelry from SilverWorks comes with free lifetime cleaning (available in any SilverWorks branch). You can also learn how to clean your jewelry at home by following these steps from SilverWorks. 
These Gold Plated Hoops are a staple and will always stay in style. They are bold enough to be a statement piece while remaining classy and chic. 
Reason #3: Jewelry is sentimental and leaves a lasting impression 
If you want to get a meaningful, sentimental present, then the right jewelry will deliver. A thoughtfully chosen piece of jewelry serves as a gesture to show a loved one that you put a lot of time, care, and effort into their gift. Furthermore, when you give jewelry, you are sharing a treasured moment with your loved one. Every time they wear that bracelet or that necklace you gave them, they will remember the occasion and how they felt when they received it. Seeing and wearing their jewelry will relive that feeling of celebration and happiness.
 The Christa is a sterling silver box chain bracelet with a key, heart padlock, and ball charms. Charm bracelets are inherently meaningful and will make the perfect gift for that special girl in your life.
Reason #4: Jewelry is a versatile gift for anyone
Jewelry is a perfect gift because it's highly versatile. It can be dressed up or down, worn on different occasions, and paired with various clothing styles. Here's a tip: consider the recipient's personal style when you pick out their jewelry. And if you're not sure what to get, we suggest you consider getting the more classic, wearable designs. 
These Teardrop Zirconia Earrings feature a subdued design that's sure to complement any style and occasion.
Reason #5: Jewelry can be personalized  
Take gift-giving to a whole new level by having your jewelry gift personalized. Personalized initials, dates, or messages will add a thoughtful touch—the key here is that you are giving them something truly unique and made just for them. So if you want to make your gift extra memorable, consider having it personalized. SilverWorks offers customized jewelry. Check out our Name Jewelry Collection as well as our Engravable Collection for jewelry that your loved one will certainly treasure.   
We promise this Scriptina Horizontal Name Necklace from our Name Jewelry Collection will not disappoint! 
It's always a nice idea to gift yourself and your loved ones a little extra love with SilverWorks jewelry. Definitely check us out in your hunt for the perfect gifts—click on https://www.silverworks.com/collections and see even more styles to fit any budget and personality. 
Happy shopping!