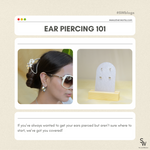 EAR AND CARTILAGE PIERCING 101
Whether it's one stylish earring on each lobe or a cluster of piercings, wearing earrings will always up your cool factor. But more recently, multiple piercings have been all the rage, and it's easy to see why. The trendiest celebs you follow are major piercing enthusiasts, and you'll always spot them flaunting multiple piercings. Well, if you've always wanted to get your ears pierced but aren't sure where to start, we've got you covered!
Before choosing your next stud:
You can embellish different areas of your ear, and the combinations of ear piercings are all entirely up to you. Check out this ear piercing chart to know your options:  
https://www.instagram.com/silverworksphil/ 
Choose SilverWorks' microstuds and other earrings to style and create your statement ear. Layer additional piercings together for more cool-girl vibes! 
Wear the universe on your ears via SilverWorks Microstuds. 
Get yours HERE.
Level up your ear stacks by mixing & matching.
You're free to mix and match with this flexible set! 
Get the Shelly studs HERE.
This set is perfect for multiple-pierced ears!
 Get the Sophelia microstuds HERE.

These mix-and-match earrings can be worn as cartilage earrings.
Get these microstuds
HERE
.
Leave it to the pros:
Whatever type of ear piercing you choose, it's important to find a reputable ear-piercing pro. Nope, your BFF doesn't count, and you shouldn't even think of doing it yourself. Luckily for you, all SilverWorks branches offer professional ear piercing. Our piercers use sterilized Studex studs for piercing and a Studex piercing gun, the number 1 brand of piercing equipment. The Studex piercing gun is made in the US and offers a "touch-free" ear-piercing process, combining ease, hygiene, and safety. 
Note: To ensure a safe and hygienic ear piercing procedure, SilverWorks uses hypoallergenic earrings and follows safety protocols inside the store.
How much does it cost?
The following prices already include the jewelry and free Studex ear piercing care gel:
Earlobe - Php 450 (for two piercing shots)
Cartilage - Php 550 (for one piercing shot; helix only)
sample of Studex ear piercing studs
Studex Ear Piercing Aftercare Gel
Ear Piercing Aftercare
Because each body is unique, healing times may vary. But in all cases, fresh piercings require a certain responsibility and some TLC to help the body heal nicely. 
Here's our suggested aftercare routine for you to follow:
Do not fiddle with the ears and avoid unnecessary handling of the ear and studs.
Do not replace studs with other earrings during the FIRST 6 WEEKS for earlobe and 12 WEEKS for cartilage. 
Wash your hands before touching the stud or ear and cleanse the pierced area twice a day without removing the earrings.
Lightly apply the Studex Ear Piercing Aftercare gel to the front and back of the pierced area.
Rotate the studs back and forth with clean hands at least once a day.
Do not allow soap or shampoo to build up behind the stud or clasp. Rinse the area well with an antiseptic solution after bathing or shampooing.
Keep the pierced area DRY in between cleanings. Cover the ears when spraying perfume, hairspray, and antiperspirant.
Do not push or press the butterfly clasp against the ear. The butterfly clasp should always be positioned at the end of the post.
Minor pain and redness may occur right away. Do not panic, as this is normal and should settle within 48 hours.
If undue pain/swelling occurs, consult a physician. 
Ready to take your ear game to the next level with layered ear piercings? Schedule your next ear piercing session at a SilverWorks store near you. Looking for the perfect studs? Check out our website and get yours while they're hot!