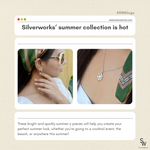 SILVERWORKS' SUMMER COLLECTION IS HOT
Summer is finally here! And because summer is all about fun and fashion, we are excited to share SilverWorks' Summer Collection! These bright and sparkly summer-y pieces will help you create your perfect summer look, whether you're going to a cocktail event, the beach, or anywhere this summer!
SilverWorks' Summer Collection is designed to amp up your summer style with our high-quality, trendy pieces. Included in the collection are earrings, pendants, bracelets, and more! 
Here are some of our favorite pieces from the Summer Collection.
Silverworks Starfish Charm with Lobster lock - C4629
GET IT HERE
Channel your inner sea goddess with this Starfish Charm with Lobster Lock. This charm can add that extra sparkle to any outfit and can be used on many different types of jewelry. Attach it to your necklace, bracelet, hair accessories, or other jewelry items. 
Monstera Leaf Necklace
GET IT HERE
Perfect for the fashion-savvy plantito/plantita, this Monstera Leaf necklace is a beautifully designed piece that evokes tropical summer vibes! It is made of 925 sterling silver and rhodium plated, making it a durable yet refined piece of jewelry. The leaf necklace is available in silver or rose gold plated.
Aillish Silver Captain Wheel Charm
GET IT HERE
Sail across life's seas with The Aillish charm. It comes in a shiny polished finish that looks beautiful on your necklace or bracelet. This charming sterling silver charm will add beauty and sparkle to your summer-themed 'fits.
Square Hoop Earrings
GET IT HERE
Look and feel summer-ready with these square hoop earrings from our Summer Collection. These hoops have a playful yet elegant look that you will love. They can be worn alone or layered with other earrings for more of a statement. Your summer look won't be complete without these!
Bangle with Blue and Pink Beads
GET IT HERE
Bring on the color! This bangle with blue and pink beads is the most beautiful pop of color you can wear on your wrists. It can be adjusted to fit different wrist sizes and comes in a hypoallergenic, non-tarnish material that keeps it looking beautiful for a long time. 
Check out the rest of our Summer Collection for a great mix of styles that you can wear and represent your summertime spirit!