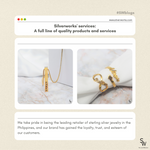 SILVERWORKS' SERVICES: A FULL LINE OF QUALITY PRODUCTS AND SERVICES
At SilverWorks, we are committed to providing our customers with the best quality of service. We take pride in being the leading retailer of sterling silver jewelry in the Philippines, and our brand has gained the loyalty, trust, and esteem of our customers. We're happy to help our customers achieve their jewelry goals with our wide array of products and services. We clean, resize, repair, engrave, plate, and even make custom jewelry.
JEWELRY CLEANING
There is a proper way to clean and care for your silver jewelry. All silver jewelry from SilverWorks comes with a free lifetime cleaning available in any SilverWorks branch. With SilverWorks' cleaning services, your dull and tarnished jewelry will be back to its original appearance. Make sure to register with our e-cleaning registration in order to claim our free cleaning services. We also accept non-SilverWorks items for cleaning. See more details here.
JEWELRY RESIZING (RING RESIZING)
If you have been wearing a ring for a while and it is getting tight, you may notice that your finger starts to feel uncomfortable. This can be a sign that the ring is too tight and needs to be resized. If your ring is too big, it could slide off your finger unnoticed. SilverWorks offers ring resizing services at a very reasonable cost and lead time. Bring your ring to any SilverWorks branch, and our SilverWorks representative will assess the ring if it is eligible for resizing.
Take note of the following base prices, which are subject to change depending on the assessment.
Upsize - Php 200
Downsize - Php 150
Note: We can only resize silver rings but not stainless and tungsten rings. Prices are for SilverWorks products only. 
CUSTOM JEWELRY
We offer personalized jewelry because we know how important it is for our customers to have something special that is truly unique. At SilverWorks, we can help you create custom pieces that are just right for you. From rings to necklaces, bracelets to earrings, we can help you find something unique to express your personality or to give as gifts to your loved ones. With our wide selection of personalized jewelry, you can find something that will fit every budget.
Name Jewelry
Check out our Name Jewelry collection, which includes necklaces, rings, and earrings:
Name Necklaces
https://www.silverworks.com/collections/name-necklace
Name Rings
https://www.silverworks.com/collections/name-rings
Name Earrings
https://www.silverworks.com/collections/name-earrings
Class Rings, Bull Rings, and Made-to-Order
Our skilled silversmiths at SilverWorks can make any jewelry idea into reality! Just send us a message on our Facebook page to get started. Ideally, you should send photos of your design/inspiration along with the following information:
Your Name:
Your Email:
Your Mobile #:
Nearest SilverWorks branch:
A SilverWorks representative will get in touch with you regarding your customized jewelry inquiry.
JEWELRY REPAIR
It is not uncommon to damage your most beloved jewelry, especially if you've been wearing it daily. But sometimes, necklaces, earrings, and bracelets can get damaged in storage, too. If you have a piece of broken jewelry, you can get it repaired so that you can wear it again. If it is cracked or broken, the repair process will make it look brand new. You may bring your damaged jewelry to any SilverWorks branch, where a store representative will assess the damage and quote for the repair. 
JEWELRY ENGRAVING 
We also engrave text or photo on any SilverWorks jewelry (with an additional charge). These are our prices for engraving on one side of the jewelry:
Text Engrave - Php 350
Photo Engrave - Php 350
You can also choose from our Engravable Collection and have your jewelry engraved. For non-SilverWorks items, engraving text and photo starts at P700.
See more details here.
JEWELRY PLATING
You may bring your jewelry to any SilverWorks branch for gold plating. Our store representative will assess the jewelry and quote for the plating. Note that we can only plate silver jewelry.
You may contact the store prior to your visit--check out our SilverWorks Store Locator for the contact information of our SilverWorks stores. 
If you are looking for a way to make your jewelry stand out from the rest, we got you! Visit https://www.silverworks.com/a/faq to learn more and contact us to know how we can provide you with the best possible service. You may also check out more details about our services here.
WHY SILVERWORKS®
✦ Quality products guaranteed. 
✦ All products made by Silver Purity over 92.5%.
✦ Meets most strict jewelry standard: EU EN-1811 & EN-12472.
✦ 100% Satisfaction Guaranteed!