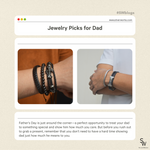 Celebrate the coolness of dad with these SilverWorks pieces.
Father's Day is just around the corner—a perfect opportunity to treat your dad to something special and show him how much you care. But before you rush out to grab a present, remember that you don't need to have a hard time showing dad just how much he means to you. And if you're looking for some great gift ideas for your dad, we've got you covered! Here are some of the best jewelry picks for all dads for every style, interest, and personality.
For the Classic Dad
For the dad with a more traditional sense of style, don't miss out on classic pieces like tungsten rings and chain-style jewelry.
Classic and cool, just like dad.
Get the Thick Box Chain Necklace HERE.
Always a classic, the signet ring exudes elegance and power. 
This piece is also engravable.
Get the Polished Octagon Signet Ring HERE.
For the Trendy Dad
For the fashion-forward dad who likes practical and stylish accessories, you won't go wrong with these SilverWorks bracelets.
Crafted with non-tarnish stainless steel, this piece is always runway-ready.
Get the Twisted Bangle with ID Bar HERE.
Surely the best dad deserves to wear this trendy piece, which matches perfectly with any wrist.
Get the Best Dad Bracelet 

HERE.
For the Outdoorsy Dad
Spoil the outdoorsy dad with pieces celebrating his love for nature and adventure!
This layered bracelet has a rustic, edgy look that goes with dad's adventurous personality.
Get the Mio Mio by Silverworks Vintage Feather Layered Bracelet HERE.
This dogtag necklace is simple yet sturdy enough to withstand dad's adventures. This piece can also be personalized with a photo or text engrave to make it more memorable.
Get the X1863 Dogtag Necklace HERE.
For the Rocker Dad
If your dad is a fan of tunes, particularly rock 'n' roll, then these pieces will surely strike the right note! 
Let dad express his music obsession with this oxidized musical note ring.
Get the Oxidized Musical Note Ring 

HERE

.
This piece is perfect for dads who rock, and who like to rock out.
Get the Dogtag with Engraved Dad U Rock and Guitar Pendant in Wax Tail Necklace HERE.
Sporty Dad
Unique and durable, these pieces will pair perfectly with dad's athleticwear!   
Fuel dad's love of sports with this necklace featuring an oxidized pendant.
Get the Boxing Gloves Necklace HERE.
If your dad has a need for speed, then he will absolutely love this motorcycle pendant.
Get the Motorcycle Design Pendant HERE.
This Father's Day, show dad how much you care for him. After all, he deserves a gift that's going to last him for years to come. 
Visit our website for a great range of other gift ideas for dads, from rings and bracelets to personalized pieces that will capture his unique personality. 
Check out https://www.silverworks.com/collections/silver-for-men today!