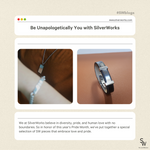 BE UNAPOLOGETICALLY YOU WITH SILVERWORKS' PRIDE COLLECTION
Wear your pride your way.
We at SilverWorks believe in diversity, pride, and human love with no boundaries. So in honor of this year's Pride Month, we've put together a special selection of SW pieces that embrace love and pride.
Introducing SilverWorks' Pride Collection.
Our Pride Collection includes statement necklaces and trendy arm candies designed to celebrate the spirit of love and equality.
Ready to strut your pride? Check out these gorg pieces from the collection!

COUPLE NECKLACES

Everyone deserves to love freely and live authentically. With these adorable couple necklaces, you can always carry a piece of each other with you wherever you go. 
Shop the Deep Engraved Matte Heart Couple Necklace here.
Shop the Book Pendant Couple Necklace here.
Shop the Forever Love in ID Bar Couple Necklace here.
Shop the Black Puzzle Heart Couple Necklace here.

ENGRAVABLE ID BRACELETS

Personalize your pride with these engravable ID Bracelets. You can have your initials or a memorable date engraved (please check each product listing for more details). Made of high-quality stainless steel, these are elegant, wearable pieces that will never go out of style. 
Shop the Gameboys Collection Black Engravable Endearment Bracelet here.
Shop the Bangle with Engravable ID Bar here.
Shop the ID Bar Adjustable Bracelet here.
Shop the Mio Mio by Silverworks Engravable Matte-Finish ID Bar in Leatherette here.

FASHION STAPLES

Keep the self-love strong with these fashion staples, or give them as gifts. Either way, these pieces are sure to snatch any lewk. 
Shop the Sami Layered "LOVE" Letter and ID Bar Necklace here.
Shop the
Love in Heart Bangle 
here.
Shop the Twisted Wire Bangle here.
Shop the Heart Locket Necklace here.
Get your pride on and celebrate your true, authentic self with SilverWorks' Pride Collection.
Simple yet elegant, these stainless steel pieces are hypoallergenic, tarnish-resistant, and crafted with high-quality materials. They are perfect reminders of your story, the significance of Pride, and what it means to you.
After all, love and self-expression are at the heart of each SilverWorks' piece. 
So get yours now and wear it PROUD!