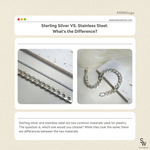 STERLING SILVER VS STAINLESS STEEL: WHAT'S THE DIFFERENCE?
STERLING SILVER VS STAINLESS STEEL: WHAT'S THE DIFFERENCE?
We break down the differences in this blog post.
Sterling silver and stainless steel are two common materials used for jewelry. The question is, which one would you choose? While they look the same, there are differences between the two materials. 
This article will help clarify what the differences are, so you can be confident when purchasing either type of jewelry. 
What is Sterling Silver?
Sterling silver is an alloy of silver containing 92.5% pure silver and 7.5% other metals, such as copper. Sterling silver has a smooth and shiny surface; its luster is actually one of its most desirable characteristics. And over time, the shiny silver eventually develops a warm patina, giving the material a distinctive look and character.    
What is Stainless Steel?
Stainless steel is a mixture of iron-based alloys and contains at least 10.5% chromium to enhance its resistance to corrosion. Stainless steel is durable and easy to maintain, making it an ideal choice for daily wear. It is hypoallergenic, non-tarnish, and generally more affordable than other types of metal.  
So now you know the main characteristics of each material, here are the differences between the two:

Corrosion
Sterling silver: Sterling silver is also impervious to corrosion, but its surface may tarnish when exposed to air.
Stainless steel: Because of the chromium content, stainless steel resists corrosion.

Light Reflection
Sterling silver: Sterling silver may be polished to mirror shine and reflect about 95% of incident light.
Stainless steel: Depending on its finish, stainless steel has around 50% light reflection factor. 

Cleaning & Maintenance Needed
Sterling silver: Use silver polishing cloths to clean mild to moderately dirty silver pieces. For more tips, you may also check out our previous article, Keeping your Silver Pieces Sparkly and Sturdy. 
Stainless steel: Stainless steel virtually needs zero cleaning and maintenance.

Main Differences: Sterling Silver vs. Stainless Steel
To sum up, sterling silver is very resistant to corrosion, but it may tarnish when exposed to the elements. On the other hand, stainless steel is impervious both to corrosion and tarnishing. Stainless steel jewelry offers enhanced durability, but sterling silver reflects light way better, giving it a shinier, whiter appearance. 
The choice between sterling silver jewelry and stainless steel is ultimately up to you, but you can consider the different factors we just mentioned. Alternatively, if you aren't concerned about the material, just choose and wear whatever jewelry appeals to you! Click https://www.silverworks.com/collections and find the perfect SilverWorks piece that's uniquely you. From trendy stainless steel pieces to classic silver accessories, we've got you covered. 
Also, check out these gorg stainless steel and sterling silver pieces!

STERLING SILVER
Countess Silver Bracelet with Curb Chain
Hollie Pave Butterfly Silver Necklace with Zirconia Stones and Curb ChainSHOP
HERE
Sandblasted Band Ring with Slanted LinesSHOP
HERE
Marguita Cut Out Square Silver Stud EarringsSHOP
HERE
Corissa Clam Sea Shell Dangling Silver Bracelet with Ball Beads Chain and BellSHOP
HERE

STAINLESS STEEL
July Swarovski Birthstone SetSHOP
HERE
Ring with Oxidized Screw DesignSHOP
HERE
Sami Layered "LOVE" Letter and ID Bar NecklaceSHOP
HERE
Gold Crown/Steel Peace Friendship EarringsSHOP
HERE
Twisted Bracelet with Magnetic ClaspSHOP
HERE
Whatever you choose, you can be sure you're getting beautifully made, durable pieces that can last you a long time. SilverWorks' stainless steel pieces are made of 316L stainless steel, which is one of the most environmentally-friendly metal options in the industry. Our sterling silver accessories, on the other hand, are made with Silver Purity over 92.5%. 
Each SilverWorks piece meets the strictest jewelry standards: EU EN-1811 & EN-12472, so we can assure you of the quality of our products. 
Get yours now and enjoy 100% satisfaction guaranteed!