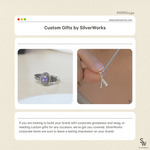 PERSONALIZED JEWELRY GIFTS BY SILVERWORKS
SilverWorks corporate items are sure to leave a lasting impression on your brand.
If you are looking to build your brand with corporate giveaways and swag, or needing custom gifts for any occasion, we've got you covered. As the leading retailer of sterling silver jewelry in the Philippines, SilverWorks only produces items of the highest quality, and your recipients will undoubtedly appreciate each SilverWorks piece.
Nowadays, jewelry is both functional and aesthetic in purpose, making them great for corporate items. Customized jewelry will not only make a lasting impact on recipients, but they will also enjoy wearing them every day.
WHY CHOOSE SILVERWORKS
SilverWorks offers high-quality items with customizable options based on your needs, wants, and budget. We can make your creative ideas come to life—whatever design you have in mind, our team can deliver it. Also, our items have a higher perception value than usual gifts or giveaways. Our products get a lot of visibility, stand out, and create an impact. 
WHAT WE OFFER
SilverWorks is all about style and expression for those special moments. We provide quality products specially designed for your organization's purposes—at special rates.
What we can create for you:
Corporate gifts 

Awards (rings, medals, dog tags, etc.)

Special events souvenirs (school affairs, team-building, etc.)

Loyalty items (school bangles, dog tags, etc.)

Memorabilia

Specialized identification items

Personalized and customized jewelry in bulk

Graduation rings

Customized pins

Cufflinks 
Please know that we are not limited to such items only. We can further discuss our various offerings and customize them to your liking. 
CONTACT US
Let SilverWorks help you showcase your brand identity through custom corporate gifts and swag items. We have highly skilled artisans who can craft silver and steel jewelry, and we'll collaborate with your brand to come up with the best corporate gifts and swag merchandise. We've got the expertise to make them happen, and yes—we can work with every occasion imaginable.
Should you be interested, feel free to contact our Corporate Sales through the following: 
Fill out: Personalized Jewelry Form
P: 8956-3805 / 8687-0390 local 1144 / 09285068520