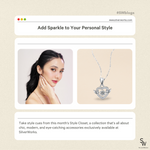 ADD SPARKLE TO YOUR PERSONAL STYLE
Here's some fashion inspiration, from Adrianna's style closet to yours!
Finding your personal style can be fun and empowering, and our fave gal Adrianna knows exactly what it takes. Take style cues from this month's Style Closet, a collection that's all about chic, modern, and eye-catching accessories exclusively available at SilverWorks.
Adrianna's fashion is fresh, elegant, and always ON POINT. 
Make sure to check out these fashion must-haves below:
This adjustable Twisted Wire Bangle has a woven cable design. Pair it with classic pieces for the ultimate feminine-cool vibe.
The Butterfly motif symbolizes beauty and freedom. Channel both when you wear the Hollie Pave Butterfly Silver Necklace with Zirconia Stones and Curb Chain.
This criss-cross Eternity Ring in silver provides a modern, fresh take on stacked looks (BTW, the stacked trend is here to stay & we're not mad about it!)
When it comes to jewelry staples, a pair of large hoops is always high on the agenda. These Big Hoop Earrings with Lines are lightweight and perfect for daily wear, but also stylish for a night out.
Bring some sparkle with you no matter the event, no matter the day. This Ceanna Tennis Style Silver Bracelet is encrusted with cubic zirconia stones all around, making for a show-stopping piece.
Check out the rest of the collection at our Style Closet.
Whether you need some new jewelry inspo, where to shop the perfect pieces, and would like to keep up with the latest trends, we've got you covered. As the leading retailer of sterling silver jewelry in the Philippines, SilverWorks offers the biggest range of accessories to showcase your unique style, from the bold and edgy to the timeless and classic jewelry styles. 
Find your personal style with SilverWorks.