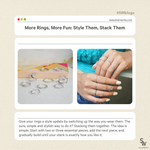 MORE RINGS, MORE FUN: STYLE THEM, STACK THEM 
Because more is more when it comes to stacking jewelry.
Give your rings a style update by switching up the way you wear them. The sure, simple and stylish way to do it? Stacking them together.  The idea is simple. Start with two or three essential pieces, add the next piece, and gradually build until your stack is exactly how you like it. 
Want to get on board this trend? SilverWorks silver stackable rings for women have got you covered. Explore a variety of pieces that come in different textures and styles.
Need inspo? Here are some fabulous go-to's.
Elva Silver 3 Layered Adjustable Ring with 3 Round CZ In Middle
With its layered cubic zirconia design, this ring adds texture and bling. Perfect as the centerpiece to your enviable finger stack.
Silver Alternate Triangle Adjustable Ring
Going for a dainty & elegant look? You can stack two or three simple rings on one finger or wear similar delicate pieces across multiple fingers. 
2 Cz Lines, Peace Logo Adjustable Ring
Can't get enough bling? This ring is big on sparkle and is a favorite for layering.
Amelia Crown Ring
This beautiful stacker finishes off any look with lovely cubic zirconia stones that sparkle and shine from day to night.
Imani Sandblasted Band Silver Ring
Channel a look that's both edgy and cool with this piece. Bold and chunky rings like this can be rocked solo, or stacked with each other, creating a heavy, textured look.
Go ahead and create statement ring looks that are as unique and bold as you. From simple stacks of two, to more ornate designs and combos, the possibilities are endless.
Check out our Ring Collection and get stacking!