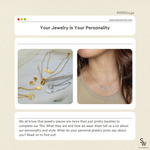 YOUR JEWELRY IS YOUR PERSONALITY
You are what you wear—and that goes for jewelry too!
We all know that jewelry pieces are more than just pretty baubles to complete our 'fits. What they are and how we wear them tell us a lot about our personality and style. 
What do your personal jewelry picks say about you? Keep on reading to find out!
1. FUN AND FOXY
If you're someone who likes to wear chunky accessories and quirky designs, you are likely to be outgoing and the life of the party. Embrace the social butterfly in you with these:
These big hoops are engraved with lines to catch the light and frame your face.
2. CLEAN AND CLASSIC
If you prefer simple silver accessories to blingy ones, then you're a classic chic chick. Achieving the timeless yet modern look is easy with pieces like this:
This stainless steel bangle is simple and luxe, perfect for everyday wear.
3. MINIMALIST AND MODERN
Too much bling isn't exactly to your taste, but a little sparkle or a touch of mixed metals is totally fine. Your jewelry of choice is subtle and very alluring, much like your own personality.  
This delicate bracelet in silver will be the perfect last touch to your look.
4. UNAPOLOGETICALLY UNIQUE
You have an eye for more one-of-a-kind pieces, and you're not afraid to take risks in life and in fashion. You firmly believe that wearing jewelry is an expression of your own style and taste, but it is also an art form in its own right.
Wear this bold piece your way; stacked, solo, or mixed with other rings for a unique look each time.
5. TRENDY AND PRACTICAL
You like pieces that can be worn in a variety of different ways. You are practical and versatile, and your style wardrobe has to be the same. Check out this gold plated necklace with a convertible pendant:
This necklace has a pendant that can be worn in two different ways, depending on your mood.
Celebrate your individuality in style. Check out the SilverWorks style closet and find a variety of pieces that are perfect for showcasing who you are! Take your pick and celebrate yourself with a little sparkle and shine!