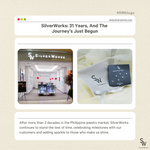 SilverWorks: 31 Years, And The Journey's Just Begun
After more than 3 decades in the Philippine jewelry market, SilverWorks continues to stand the test of time, celebrating milestones with our customers and adding sparkle to those who make us shine. 
As the leading retailer of sterling silver jewelry, SilverWorks currently has 54 brick-and-mortar stores nationwide. What started as one store offering only silver pieces has expanded to an established Philippine brand, shed Philippine brand, with an expanded digital reach and jewelry selection to match. All these, while staying true to the brand's promise of celebrating life's moments with our customers. 
Years back, wearing, purchasing, and giving away jewelry as gifts were all reserved for special occasions such as birthdays, weddings, engagements, and the like. Now, jewelry is for everyday celebrations: your first paycheck. Your highly appreciated performance in school or at work. Your admission to a crush. Your expression of self-love. SilverWorks has been a part of countless stories of celebrations, and we intend to be part of more stories to come, no matter the circumstances.
Being in the midst of a global pandemic posed a number of challenges. Prices were high. Competition was tough. Moreso in the past few years. In-person celebrations and events came to a halt. Suddenly, strolls in malls were risky, and so was being in the company of many people. As a brand, we had to expand anew by exploring new channels through which we may reach our customers. 
Ecommerce is an entirely different ball game with a vastly different set of competitors. With grit, perseverance, and our knack for providing stylish quality jewelry, this time, made of silver, tungsten and steel, at affordable price points, we're gaining our footing and reaching more new and existing customers. Decades into the business, and we're still learning the ropes, as there are new ropes to learn in these changing times. 
Times will continue to change, yet celebrating moments with our customers remains to be our unchanging love. Thirty-one years and we're looking forward to thirty-one or so more. The journey has, indeed, just begun. 
We are immensely grateful for your support, and we will keep the great finds coming: from the prettiest pieces, to the quality customization services, that will add sparkle to your life's moments. 
Let us continue to celebrate life, love, and successes together, in the years to come. Check out our wide array of jewelry today! Visit www.silverworks.com. Follow us on our social media platforms @silverworksphil to get updates from us.