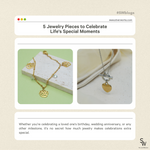 5 Jewelry Pieces To Celebrate Life's Special Moments
Make every occasion memorable with these stylish Silverworks pieces!
Whether you're celebrating a loved one's birthday, wedding anniversary, or any other milestone, it's no secret how much jewelry makes celebrations extra special. And in choosing the right jewelry, remember that it's less about the attention-grabbing details and more about versatility and wearability.
Preppin' to celebrate another momentous occasion? SilverWorks offers a vast array of chic jewelry pieces that suit your discerning taste and perfectly round off your overall look.
Birthday bash
It's true; every birthday is worth celebrating. And one of the most fitting ways to mark such an occasion, gifting a close friend or rewarding yourself for reaching a new chapter in life, is through jewelry. Make it one for the books with this gorgeous Mio Mio by Silverworks Rolo bracelet with flat rose and stone.
Grab this at a discounted price this 9.9 here.
Charming grad gift
Whether she's onto her next academic journey or jumping into the workforce, here's the perfect graduation gift that your loved one will definitely cherish forever. This Mio Mio by Silverworks gold puff heart necklace is a sparkly reminder that she's special and an ideal piece to commemorate her significant achievements!
Grab this at a discounted price this 9.9 here.
Happy anniversary, boo!
You've gone from hanging out as pals to dating. And now, you're celebrating your first anniversary as a couple! Truly, jewelry is always a fantastic anniversary gift! Question is, what kind will you get? Surprise your boo by inscribing your initials, anniversary date, or your special message for him on this leatherette bracelet with an engravable ID bar from Mio Mio by Silverworks! 
Grab this at a discounted price this 9.9 here.
Well-deserved promotion
We know how hard you've worked to earn that promotion. And yes, after many months, if not years, of living at your desk, now is the best time to focus on yourself and celebrate your feats. This sleek Silverworks Rolo chain bracelet with dangling ball charms is the perfect self-reward!
Grab this at a discounted price this 9.9 here.
Married life
There's something special about spending the rest of your life with the person you love. Every moment spent together is worth celebrating. As a reminder of all your firsts, ups and downs, and most especially your inexplicable love for each other, the classy Silverworks gold-plated diamond ring is the best gift to make your lover feel extra special every day.
Grab this at a discounted price this 9.9 here.
The 9.9 Sale is coming, and, like your life moments, it's worth celebrating! Visit Silverworks' flagship online stores from Sept. 9-11 and get more bang for your buck with a wide selection of marked-down offers! 
Silverworks is available on Lazada, Shopee, and Zalora.