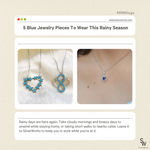 5 Blue Jewelry Pieces To Wear This Rainy Season
Wash away your downpour blues with these breathtakingly beautiful SilverWorks pieces.
Rainy days are here again. Take cloudy mornings and breezy days to unwind while staying home, or taking short walks to nearby cafes. Leave it to SilverWorks to keep you in style while you're at it.
Take your picks from our new collection:
Stacie Heart Silver Earrings and Necklace Set
Greet the rain gods with an ethereal look! This Stacie Heart silver earrings and necklace are studded with gleaming heart-shaped blue gems and lustrous stones.
Hudgens Butterfly Turquoise Silver Necklace
Brighten up your jewelry stash with our on-trend Hudgens Butterfly turquoise silver necklace! This stunning piece boasts a kaleidoscope of turquoise and cubic zirconia stones.
Mia Blue Sapphire Silver Stud Earrings 
Want to amp up your rainy-day fit? Our Mia blue sapphire stud earrings are the perfect jewelry for you! This set is accentuated with sparkling blue sapphire and lucent crystal embellishments.
Nastia Blue Star, Moon, and Circle Silver Stud Earrings
These Nastia earrings provide an elegant touch to your everyday look. This beautiful set holds whimsical blue star-shaped gems, circle and moon studs, and zirconia stones.
Cruella Turquoise Infinity Charm Silver Bracelet
Cave into the distinctly magical feeling of a drizzle and spend your day looking fab and delicate. A charming turquoise-studded infinity charm perfectly highlights this stunning Cruella bracelet.
Always fill your rainy days with beautiful (sparkly!) things that never fail to put you in high spirits.
Visit www.silverworks.com to check out the rest of our blue jewelry pieces. For more updates about our products and offerings, follow @silverworksphil on Instagram and Facebook.