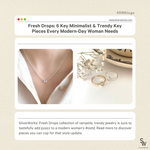 Fresh Drops: 6 Key Minimalist & Trendy Key Pieces every Modern-Day Woman needs
The modern-day woman is always on-the-move and ready to take risks. Working on her professional and personal goals, one after the other, she's ready to face each day, armed with the go-getter mindset and a chic sense of style to match.
She puts in the work and dresses the part. 
SilverWorks' Fresh Drops collection of versatile, trendy jewelry is sure to tastefully add pzazz to modern woman's #ootd. Here's a roundup of the pieces you can cop for that style update:
A structured pendant with an inlay of cubic zirconia hanging on a delicate chain of fine sterling silver, the aesthetic of Hazel Geometry Rectangle necklace is a classic and timeless piece that completes any look - daily or dressy.

Contemporary Mazi Simple Circle hoop earrings, made of sterling silver and a strategically-placed round cubic zirconia, guaranteed to brighten up your face in the most subtle way! Modern and minimalist, perfect for everyday wear.

Ilise Hollow Beads Cross Chain ring is a rich, textured piece that works as the perfect accent to step up your stacker rings, giving you an edgier charm that looks effortless. 
A smaller-inched dangling earrings, such as the Mystie U-Shaped earrings, are most ideal for the workplace as they look effortless and ethereal. This versatile piece looks great on any face shape. Match this set with a high ponytail that elegantly shows off your beautiful face.
A glimmering treat—the Ivette Minimalist Waterdrop ring, gives off a whimsical and dreamy vibe with its textured band framing a delicate teardrop-shaped cubic zirconia.  

The exquisite elegance of the Irene Geometry Rectangle ring is destined to be a permanent fixture on your hand. The structured cubic zirconia adds a touch of gleam and glamour matched with the versatile skinny band. 
Turn this into a statement piece by stacking several of them together! 
This is the subtle glow-up every modern-day woman needs. Captivate hearts with effortless charm through minimalist and trendy pieces from this new collection.
Visit www.silverworks.com to check out more from this collection, and for more updates about our products and offerings, follow @silverworksphil on Instagram and Facebook.