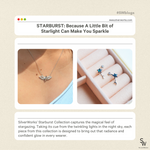 STARBURST: Because A Little Bit of Starlight Can Make You Sparkle
SilverWorks' Starburst Collection captures the magical feel of stargazing. Taking its cue from the twinkling lights in the night sky, each piece from this collection is designed to bring out that radiance and confident glow in every wearer. 
Sparkle like a sky full of stars with these stellar finds you're about to fall in love with:
Halea Starburst Silver Necklace 

The Halea Starburst Silver Necklace is a beautiful statement piece that says "I am the star". 
Its charm pendant resembles a sudden burst of bright light, with cubic zirconia embellishments framing a star-shaped piece in sterling silver. A perfect charm for the life of the party like you! 
Haruko Silver Necklace with Flat Pearl Star and Starburst Pendant

Reminiscent of vintage pendants— this timeless piece features a clear cubic zirconia that's framed in sterling silver cuts to resemble an icy starburst. A versatile piece that can take you from day to night!
Gold Plated Starburst with Zirconia Earrings & Necklace Set

An icy aesthetic contrasted with a warm golden embrace—imagine sparkling in this set under the touch of sunlight (or even against fluorescent light indoors!) These golden pieces will effortlessly highlight and elevate your natural beauty. 
Megan Starburst Silver Dangling Earrings

Unleash the super star in you with the Megan Starburst silver dangling earrings. A chiselled star-shaped in sterling silver hangs on a delicate thread of silver, designed to dance gracefully along with you as you move. Match this piece with a high ponytail or a low bun for maximum effect! 

Macy Starburst Silver Earrings 

Keep it simple yet sophisticated with a pair of Macy Starburst silver earrings that mimics an icy frost that helps bring light to your face. Perfect for everyday wear. 

Neci Starburst Silver Stud

Baby, you're a firework! Neci Starburst studs are shaped to mimic a burst of a firework display and will definitely put you in the mood to celebrate life's little wins everyday.

The focal starburst piece brings an abstract, icy twist to the classic 2-Layer ring with glittering stones set for you to sparkle as light touches every angle. 

Sylene Gold Plated Microstuds Earrings Set Halfmoon, Starburst and Star with Cubic Zirconia
You are the beauty queen of the universe! Embrace your unique and quirky side with this galactic set that features cubic zirconia shaped as a half-moon, starburst and star all framed in a sleek golden outline. 
To feel like the star that you already are, all it takes is a little bit of starlight, a whole lot of sparkle. Reach for the stars by checking out SilverWorks' latest celestial Starburst collection. 
Visit www.silverworks.com to check out more from this collection, and for more updates about our products and offerings, follow @silverworksphil on Instagram and Facebook.