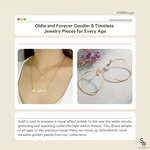 Oldie and Forever Goodie: 8 Timeless Jewelry Pieces for Every Age
Gold is said to possess a visual effect similar to the way the water moves, glistening and sparkling under the light and in motion. This draws people of all ages to the precious metal. Its warm hue lends a touch of timeless sophistication to a variety of fashion items—from clothing and bags to jewelries.
Gold is a classic. Here, we round up SilverWorks' most versatile golden pieces from our collections: 
Heart with Zirconia in Middle Earrings and Necklace Set
Imagine—you're wearing this set basking under the light of the golden hour as rays bring out lustrous shimmers that frame your face. Its yellow-gold pendant contrasts the cubic zirconia's icy sparkle. A perfect set to complete a romantic look.
Double Chain With Cross Name Necklaces PC11-X / PC11

Wear your faith close to your heart. This double chain with cross name necklaces is best worn on neutral-coloured tops or dresses with lower necklines.
 
Gold-Plated Silver Bracelet

A jewelry box isn't complete without a classic bangle. This sleek gold-plated bangle serves as a great base for styling. A versatile piece that you can match with bold gold earrings or a gold clutch to get an effortlessly posh and glam look.

3 Pairs of 18k Gold Plated Drop 6mm Long Chain Earrings with Ball, Round Cubic Zirconia and Heart Design

Elevate a basic yet classy look with this three-pair-set of long and delicate drop earrings that would surely add a feminine touch. A pair you will need every time you want to transform from bold & basic to sophisticated chic!

Heart Locket Necklace

This heart-locket necklace is sure to withstand the test of time (and of trends). A staple adornment that gives out an enchantingly nostalgic vibe. Perfect for date nights and for bringing out the dainty and romantic side of you.

Gold Plated Misa Hoop Earrings

Hoop earrings have re-emerged to be a cult favorite. Yet, we've always known it to be around ever since—a mark of timeless style! Add a pair to your everyday look with these minimal yet elegant Misa Hoop Earrings.

Glow and go for gold and visit www.silverworks.com to check out more pieces from a wide array of collections, and for more updates about our products and offerings, follow @silverworksphil on Instagram and Facebook.