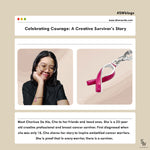 Celebrating Courage: A Creative Survivor's Story
The teenage years mark many firsts in one's life: first crush, first day in high school, first prom date, among many other fun-filled growing up moments. Charissa De Ala, Cha to her loved ones, has had a life-changing first at 15: a bout with breast cancer. In spite of the challenges that came with the diagnosis, the young creative kept a brave and positive disposition throughout the experience, ultimately overcoming the disease. 
Now 23, Cha is a proud survivor who willingly shares her story in support of breast cancer awareness causes, to inspire embattled cancer warriors. Read on as she walks us through her journey. 
Getting Diagnosed and Treated
Asked how she felt when she got the diagnosis, Cha said, "I was young back then, so I didn't think it would be that big of a deal. Before the diagnosis, I was in and out of hospitals for other reasons." She had surgery to remove the lump from her breast and began chemotherapy. It was when the reality of the disease started to sink in. 
After 6 cycles, her body was not responding well to the chemo meds, causing the cancer to reoccur when Cha was 17. The doctors decided to perform a total mastectomy on her right breast. 
Struggles and Learnings 
While the disease and treatments took a huge toll on her health, Cha said that the physical pain is not what she struggled with the most in her bout with cancer. "It's your longing for a normal social life and your battle to find reasons to still fight."
She added, "Cancer can really affect your relationships with people, as well as with yourself. You may lose contact with some of your friends due to missed gatherings as you stare at the hospital ceiling and walls with an IV in your arm, or think that your life has no meaning because it is just a repetitive cycle of the hospital and your house. Physical pain can be subdued with pain killers. Mental and emotional pain is another story." 
Following cycles of intense radiation treatments, Cha went on remission. The changes in her, both physically and otherwise, took some time and self-love to get used to, and most importantly, accept. "At first, I was trying so hard to make my chest look even and to hide my big operation scar. But as time went by, I realized that my scar is a reminder of how brave I am as a woman, and I cannot be defined by my body parts. That's when I had the confidence to wear what I want—without the goal of pleasing anyone but myself."
Living to Continue Her Story
Cha does not shy away from telling her story, and has this to say to those who are currently going through their battles: "A body part doesn't define your femininity. Don't let society dictate what and how you should look and act like." 
To those who have loved ones fighting cancer, she said, "Physical pain could be hard but nothing beats the feeling of being left out—both socially and mentally. So always care to invite them (cancer warriors) to your gatherings, hang out with them, never let them feel that their sickness made them less of a person." 
Breast cancer certainly did not make Cha any less of a person. She is proof that there is life beyond it, and in every warrior, there is a survivor fighting to continue living their story. 
Editor's Note: SilverWorks is grateful to Cha for sharing her story with our team. We hope she continues to inspire others not just with her experience, but also with her bright, brave and endearing disposition. Sending you love, Cha!