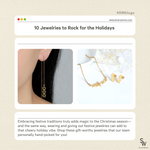 10 Jewelries to Rock for the Holidays 
From handcrafted parols hung on every home to heavily-decorated shopping malls, to bright red Poinsettias to Christmas trees dripping in twinkling lights and ornaments, embracing festive traditions truly adds magic to the Christmas season—-and the same way, wearing and giving out festive jewelries can add to that cheery holiday vibe. Shop these gift-worthy jewelries that our team personally hand-picked for you!

Shooting Star Stainless Steel Earrings and Necklace Set For Women
Top off any look with this star-studded set in stainless steel. Golden asymmetric stars line up close to each other, adding a warm glow that accentuates your features. Style this set with a monochromatic outfit or a little black dress for maximum effect. 
Korean-Style 3 Star Stainless Steel Drop Earrings For Women
Bag that "Star of the Night" award on Christmas parties with this sparkly triple-star pair that will complete your Christmas look. Match with warm-hued tops or dresses that have lower necklines to bring the light and focus to your face. 
Mikaela Heart Deer Antler Silver Earrings For Women
Oh, deer! It's time for your fun and festive spirit to take the centerstage with a pair of Mikaela Heart-shaped Earrings with Deer Antlers—a novelty statement piece perfect for Christmas brunches out with friends or for thematic holiday parties with colleagues. Best worn with a sleek high ponytail or a laidback half-bun. 

Heart Silver Necklace For Women
Give love on Christmas day with this sterling silver heart-shaped pendant with a cubic zirconia centre, which altogether has a polished look for a subtle yet impactful effect on the overall look. Style this piece with a pair of heart-shaped earrings to complete a dainty look. Alternatively, surprise someone special with this piece as a symbol of your sincere affection. 

Courtney Silver Arrow, Pulse and Heart Silver Bracelet For Women
This statement piece features the signature zig-zag, symbolic of a heartbeat, connected to an open heart. Suspended at the center of a sterling-silver chain bracelet is the signature vital sign charm—a perfect gift for someone who makes your heart flutter!  

Open Heart Silver Earrings For Women
A versatile sterling silver pair that you can wear from day to night as you go from the sleek working girl during the day to the playful night owl after work hours. Indeed, a splendid item any lady would love to receive! 

Cia Heart, Crown, Ribbon and Deer Charms Silver Anklet For Women
When we think of holidays, we often think of bold colors, textures and statement pieces. That doesn't mean we can't go subtle and dainty when it comes to accessorizing. Charm anklets are a subtle and unexpected choice when dressing for the holidays. But they can work and even make a statement. They're best worn with sandals, strapped heels and even a pair of neutral-coloured pumps. Accessorize your overall holiday #ootd with this staple Cia anklet adorned with charms of the season.
Layered Bar and Round Stone Earrings and Necklace Set
In this cooler season, layering is in—not only in clothing, but also in jewelries! Get yourself this Layered Bar and Round Stone earrings-and-necklace set that's sure to add that much-needed amount of glamour to any of your basics. A perfect go-to set you need to quickly transform from casual to chic for unexpected parties coming your way! 
Open Heart Silver Bracelet For Women
Wear love on your sleeve with the Open Heart Silver Bracelet—an open-heart charm dangles on a slim link chain locked with a stylish clasp. Stack this extra layer of sparkle over an elegant wristwatch for a luxe and feminine touch. 

Open Star with Drop Bar Silver Earrings For Women
These classic Open Star with Drop Bar silver earrings are a mix of texture and structure in sterling silver, a sophisticated and simple design. A piece that can stand alone, or can be paired with a matching necklace to achieve chic elegance. 

Make this holiday season merry and bright by perking your outfits up with these stylish pieces available at www.silverworks.com, and for more updates about our selections and collections, follow @silverworksphil on Instagram and Facebook.