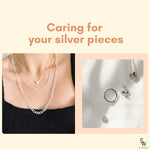 Keeping your Silver Pieces Sparkly and Sturdy!
Silver accessories and jewelry are must have pieces, not only for their elegant and stylish designs, but they also are a perfect complement to most outfits.
Wearing silver pieces gives an air of confidence and uniqueness, but in time, it may fade or tarnish if not properly maintained.
Here are some tips on how to properly care for your silver pieces and maintain its brilliance and luster.
Storing your Silver Pieces
Proper storage of silver pieces preserves its shine and prevents oxidation that can cause dullness and discoloration.
To prevent scratches, each piece should be stored individually in its own case, pouch, or compartment.

Be sure to store silver pieces in a dry, cool place, as moist, warm air compromises their brilliance.

Keep your silver pieces in a case lined with tarnish-resistant material.

If you're planning on storing your silver pieces for an extended period of time, try sealing them in an airtight bag (plastic works fine) to protect it from oxidation and humidity.
Cleaning your Silver Pieces
Over time, dirt, makeup residue, and skin oils can build up on the surface of your silver pieces, causing it to become dull and cloudy. The best way to prevent this undesirable effect is to clean them regularly.
Use silver polishing cloths to clean mild to moderately dirty silver pieces without scratching them

Avoid regular use of chemical liquid jewelry cleaners as they can result in the eventual discoloration of the silver pieces.

Avoid scrubbing the silver with any type of brush to prevent potential scratching and dullness.

To remove silver tarnish, try adding a small amount of mild detergent to the piece then use a damp cloth or fingers to rub it into the surface of the metal.

If your silver pieces are set with gems, ​​clean them according to the care method recommended for the particular stones.
Make sure that you follow these tips to care for your silver accessories so you may enjoy using them for a longer time.
Looking for an easier, reliable way to clean and maintain your silver pieces? You should try SilverWorks' Polishing Cream with Cloth.
It comes with instructions so you can rest assured that your silver accessories and jewellery are tarnish-free and well-cared for.
Get your SilverWorks' Polishing Cream with Cloth today!