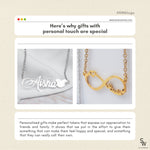 WHY GIFTING IS SPECIAL WHEN IT'S PERSONALIZED
Celebrating life can be made even more special by giving unique and personalized gifts that would remind them of the spirit of love and happiness felt during life's significant moments.
Personalized gifts make perfect tokens that express our appreciation to friends and family. It shows that we put in the effort to give them something that can make them feel happy and special, and something that they can really call their own.
With the help of social media and e-commerce platforms, getting personalized gifts is made easy with a few taps on your mobile phone.
Here are five (5) reasons why gifting is special when it's personalized:
It shows how well you know them.

Personalized gifts show how well you know your giftee as they can be created

to their tastes, and include the things you know they like, demonstrating how well you know them and care about them.
Send your love and affection by gifting these SilverWorks Name Necklaces!
They're unique.

Personalized gifts stand out and are more memorable, and saves you from giving the same gift others would.
These SilverWorks Engravable Rings are your memorable presents!
They don't have to be pricey.

A high-quality personalized gift doesn't have to be expensive; after all, it's the thought that counts!
Having these SilverWorks Engravable Necklaces as gifts will surely make your thoughts count!
It can be treasured forever.

Ordinary gifts might be forgotten quickly, but personalized ones will be treasured as tokens of love and memory that would let them reminisce happy moments.
Be reminded of love and happiness with these SIlverWorks Engravable Bracelets!
It builds stronger connections.

Personalized gifts speak from the heart, and help you develop a stronger connection with your loved one that will only get better over time as you let them know that they are loved for who they are.
Connect and bond with your loved ones with these SilverWorks Engravable Pendants!
Gifting is more than just a gift itself, but it is an expression of how we cherish and how important our loved ones are.   
Don't forget to express your love and send a customized gift for someone special today!