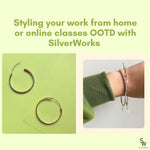 Styling your Online Classes and Work from Home OOTDS with SilverWorks
The onset of COVID-19 pandemic has caused the shift of everyday activities into digital and online, particularly classes and work shifts.
For the fashion-inclined, this shift into online classes and work from home setup limits their choices and options for accessories and wardrobe, causing them to dress simpler since they'll be attending meetings and doing tasks in the comfort of their screens.
Don't worry because you can still dress to impress and wear your favorite accessories even if you're studying or working at home.
Here are the Top 5 Silverworks accessories that help you complete your OOTDS for online classes and working from home:
This Cross with Diamond on End Design Necklace offers a simple yet stylish look for your everyday online OOTDS.
Crisscross Zirconia Stud Earrings lets you look classy and sassy, especially if you're up for hours-long class or meeting.
Opting for an assymetrical, elegant yet unique bling? Then Toggle Style Rosegold Plated Necklace is your go-to accessory!
The Laurel Ear Crawler is a must-have, giving you an eccentric yet sophisticated vibe that will surely get an approval from your online classmates and clients!
Thin Rolo Chain with Zirconia Candy with Flower Necklace gives a pop of color that is a perfect complement for neutral-colored OOTDS.
These top 5 SilverWorks accessories can surely complement and complete your online classes and work from home OOTDS.
Get them now and amp up your style!