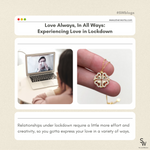 LOVE ALWAYS, IN ALL WAYS: EXPERIENCING LOVE IN LOCKDOWN
With the pandemic disrupting practically all of our activities, routines, and plans, it is unavoidable that the dynamics of our relationships shift as well. And the things we used to enjoy together before the pandemic, like going to the movies, watching live concerts, or food tripping whenever or wherever, will have to wait. 
Even so, these changes and limits do not mean the end of relationships. Because love is a creative force—and this pandemic has allowed for people to show and experience love in all its various forms, and through different languages.
Here are some ways that couples get to bond and enjoy each other's company during lockdown: 
Virtual Dates
If you are physically distanced from your partner and affected by COVID restrictions, you can still go on a virtual date via FaceTime, Zoom, Facebook, or Skype. Order each other's food and set a time for delivery so you can eat together in front of the cam. Wear what you'd actually wear on a real-life date instead of sweatpants and a pambahay tee. And don't skip on the accessories! Adding jewelry is always a wonderful option to make your outfit more interesting and draw attention to your face.
Create and share Spotify playlists
Whether LDR or not, you can create a custom Spotify playlist and share it with your partner. It's the next best thing to watching a live musical performance in person (at least for now).
Binge-watch together your fave series
It's literally Netflix n' chill, but from a distance. Download the browser extension Netflix Party so you can chat and stream the same show with your partner. 
Play online games together 
If you're both up for a bit of healthy competition, why not play online games with your partner? These days, there are lots of options you can choose from, from casual to hardcore. Playing games is also a fun way to relax after you've both had a long day at work or school.  
Send thoughtful gifts once in a while
Send your partner thoughtful, inexpensive presents once in a while. Sending gifts is a great way to express to your partner how much you love and miss them, especially when you can't be together in person. Surprise your significant other with gifts you know she will wear and admire every day, like a simple bracelet or classic pearl earrings.  
Relationships under lockdown require a little more effort and creativity, so you gotta express your love in a variety of ways. Every little bit of effort counts—don't hold back if you find a girl who is worth it! 
Woo your way into her heart with the 2-Way Heart / Clover Necklace by SilverWorks. 
The Silverworks Necklace Gold Rositas Drop with Cubic Zirconia and Silverworks Gold Puzzle Heart/Clover Necklace are beautifully designed pieces that your loved one can wear in different ways. 
Wear the Silverworks Necklace Gold Rositas Drop with Cubic Zirconia as a pendant with three dainty clovers joined together or use the magnetic clasp to transform it into a heart pendant:
While the Silverworks Gold Puzzle Heart/Clover Necklace can be worn as a chain of four linked hearts:
Or transformed into a four-leaf clover pendant:
SilverWorks' Necklace Gold Rositas Drop with Cubic Zirconia and Gold Puzzle Heart/Clover Necklace also feature cubic zirconia stones for extra sparkle. It is available in sterling silver and gold plated finish and comes with an 18-inch chain. And because this piece can be worn in different ways, it naturally resembles and evokes love—a precious thing that's meant to be shown and experienced in various forms. 
We hope you celebrate love in whatever shape and form it finds you. And give it freely, openly, and unconditionally—this Valentine's Day and always.
Love always, and in all ways—with SilverWorks.