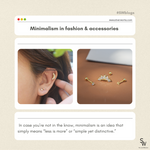 MINIMALISM IN FASHION & ACCESSORIES 
In case you're not in the know, minimalism is an idea that simply means "less is more" or "simple yet distinctive." 
Most experts say that minimalism first appeared in the 1960s, with New York as its origin. Fast forward to 2022, minimalism is still going strong. It's an aesthetic that applies to just about anything, including lifestyle, interior design, and of course, fashion. 
Why explore minimalist fashion and accessories? 
It's better for your wallet.
Minimalist fashion is about having wearable staples in your collection. And because these items can be easily styled with your existing wardrobe, you don't have to buy matching pieces just to wear them. You will save money in the long run.
It saves you time and effort.
Having a clean and simple style will help you pull together your outfit. Minimalist clothes and accessories make for no-fail combinations and address the ever-familiar dilemma of "nothing to wear." 
You will look effortlessly sleek and fashionable.
Minimalist accessories may appear to be relatively basic on their own, but it's incredible how they add a subtle touch of elegance to your workday, smart casual, or weekend looks. 
Ready to jump in on the minimalist trend? We've got you!
With SilverWorks' Microstuds Collection, you can wear the coolest multiple ear piercing arrangements! Wear the microstuds on one ear or both, and get playful by mixing and matching them however you like. The earrings come in different shapes and sizes—perfect for multiple-pierced ears!
The Sherette is a set of three gold-plated micro stud earrings in a round, heart, and triangle shape, while the Shahira comes in sterling silver. Adorned with cubic zirconia, these earrings are the kind of minimalism that won't bore you or break the bank.
SILVERWORKS' SHERETTE GOLD-PLATED MICROSTUD EARRINGS SET 
(SHOP HERE)
 SILVERWORKS' SHAHIRA SILVER MICROSTUD EARRINGS SET 
(SHOP HERE)
 Achieve the minimalist aesthetic with SilverWorks' microstud earrings. For more quality and versatile pieces perfect for daily wear, check out our website or visit SilverWorks' official Shopee & Lazada stores today!