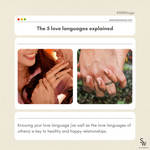 THE 5 LOVE LANGUAGES EXPLAINED
February is the month for celebrating love and relationships. So whether you're thinking about the love you have for a friend, a family member, or a romantic partner, understanding the different love languages can help your relationship. Knowing your love language (as well as the love languages of others) is key to healthy and happy relationships. If you're unfamiliar with the idea of love languages, read on!  
The 5 love languages
The term "love languages" was coined by Gary Chapman, Ph.D., in his book The 5 Love Languages: The Secret to Lasting Love. In his book, he discusses these five unique ways of conveying love:
Love language #1: Words of affirmation
People who express their love through words of affirmation value verbal acknowledgments of affection. They perceive compliments or praise, words of gratitude, and verbal encouragement as expressions of their love. Even simple words like "I appreciate you" or "You look fantastic today" can make a world of difference.  
Love language #2: Acts of service
This love language is for people who like giving and receiving love by helping others. They absolutely cherish it when others lend them a helping hand. How about doing something kind for your loved one today? You could offer to help them with their chores or errands—they will surely appreciate the gesture. 
Love language #3: Quality time
People with love language as their quality time are all about undivided attention. They feel the most loved when they get to spend meaningful time with others. Make them feel extra loved and appreciated by sharing activities with them. Prepare a meal with them, go on a coffee date, or curl up on the couch as you enjoy your fave TV shows together.   
Love language #4: Physical touch
Nothing can be more impactful than physical signs of affection for people with this love language. They like to express and receive love through touch, including holding hands, hugging, kissing, etc. If this is your loved one's love language, you could offer a backrub, embrace them gently, or hold hands as you take a walk.
Love language #5: Gifts
People whose love language is receiving gifts aren't necessarily materialistic. It's not about how much money was spent on the gift. Instead, they value the thought and meaning that went into it. Surprise them with a heartfelt token of love with SilverWorks.
SilverWorks Double Rail Design Couple Band Ring
Celebrate the lifetime promise of your love with SilverWorks' couple rings.
SHOP THIS & MORE HERE.
SilverWorks Ichiro Silver Promise Ring
A ring that symbolizes your love and affection for her will make her say "yes!'
SHOP THIS & MORE HERE.
SilverWorks 4-Prong Oval Stone Earrings and Necklace Set
Here's a set of earrings & necklace to serve as a daily reminder of your love for her.
SHOP THIS & MORE HERE.
This Valentine's Day, go ahead and express your love with beautiful and high-quality jewelry that's made to last. Just like your love.
Love fully and unconditionally with SilverWorks.