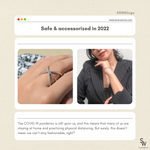 SAFE & ACCESSORIZED IN 2022
The COVID-19 pandemic is still upon us, and this means that many of us are staying at home and practicing physical distancing. But surely, this doesn't mean we can't stay fashionable, right? With the right accessories, you can make even the most basic clothing look trendy. 
Benefits of accessorizing 
Wearing jewelry and accessories is actually more important than you would think because it allows you to express yourself. Jewelry helps to draw attention to your best features while adding a pop of color to your outfit. And did you know that what we wear could affect our mood? So the next time you're feeling down, try adding some color to your ensemble and see how it boosts your mood and energy.

How to stay safe and accessorized this 2022
This is a no-brainer, but you should consider wearing jewelry. Adding a pair of simple earrings, a necklace, or a statement ring can take your look from basic to comfy-casual-chic in seconds. SilverWorks has a wide selection of sterling silver accessories so you can stay fashionable even if you're stuck at home, attending Zoom meetings for work, or going to the grocery store. Stumped as to how to style your outfits? Check out our Instagram @silverworksphil for fashion inspo!
Where to shop safely and conveniently 
Right now, the safest option is to shop accessories online. When you shop online, you don't need to worry about being exposed to the coronavirus. SilverWorks has online stores where you can safely and conveniently make your purchases. As a bonus, you can also claim vouchers & discounts and enjoy flash specials!
 Shop our items online through:
Our Website

https://www.silverworks.com

Our Shopee

https://shopee.ph/silverworks

 

Our Lazada

https://www.lazada.com.ph/shop/silverworks

 
And remember, it's always good practice to sanitize orders, wash your hands after receiving your package, and opt for online payment methods whenever possible. And if you absolutely must purchase our items in person/in-store, please maintain social distance, sanitize your hands, and mask up. Wearing a mask decreases your risk of getting the coronavirus while protecting others, too. Match your mask with the rest of your jewelry and look amazing everywhere you go.
https://www.instagram.com/silverworksphil/  
Stay safe while being fashionable with SilverWorks. Get your SilverWorks jewelry today!