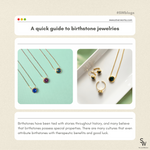 A QUICK GUIDE TO BIRTHSTONE JEWELRY
Birthstones have long been popular in accessories and gifts. As the name suggests, an individual's "birthstone" is the gemstone that represents the month in which they were born. 
Birthstones have been tied with stories throughout history, and many believe that birthstones possess special properties. There are many cultures that even attribute birthstones with therapeutic benefits and good luck.
Express yourself through SilverWorks' Birthstone Collection
You, too, can wear your birthstone and embody its attributes with SilverWorks' Mio Mio Birthstone Collection. Browse our Mio Mio Birthstone Collection now and wear your birthstone in good health & happiness this year! Made from Swarovski crystals and comes in a set (a pair of earrings, a necklace, and a ring)—you are sure to get that luxurious look at an affordable price. 
Shop our Mio Mio Birthstone Collection here. 
Birthstones by month & their meanings
You can also check out the gems associated with each month of the year, along with their equivalent meanings:
Image by Takeru via Flickr
January: Garnet. Garnet signifies protection, friendship, trust, commitment, love, and is said to keep the wearer safe during travel. 
February: Amethyst. Amethyst is believed to strengthen relationships that give its wearer courage and is widely recognized to symbolize power, wealth, royalty, and dominance.
March: Aquamarine. Aquamarine signifies hope, health, youth, and fidelity, and promotes creativity, self-expression, and courage.
April: Diamond/Crystal. It is the symbol of eternal love and courage and is said to protect its wearer's mental acuity.
May: Emerald. Emerald is considered to be a symbol of love and rebirth that promotes health, faithfulness, fertility, and wealth.
June: Alexandrite. Alexandrite, referred to as the "color-changing gem", is said to inspire creativity and imagination while strengthening intuition.
July: Ruby. Ruby represents courage, wisdom, love, and passion that signifies life, and are believed to increase courage. 
August: Peridot. Peridot brings courage, wealth, wisdom, purity, and is believed to instill power and influence in its wearer.
September: Sapphire. Sapphire represents honesty, loyalty, purity, and trust that is also the symbol of protection that brings success to all who wear it.
October: Tourmaline/Rose Zircon. It is said to be a stone of reconciliation, fostering calmness and compassion that can relieve stress and increase mental alertness.
November: Topaz. Topaz has been associated with the sun god, giving it the power to heal and protect, promote health and wellness in the mind and body, and protect its wearers from negative influences.
December: Zircon. Zircon helps clear the mind, remove stress, restore purity, and provides the wearer with wisdom, honor, and riches.
Birthstone jewelry pieces remain popular today. After all–we all enjoy wearing jewelry that adds a touch of sparkle and shine to whatever we're wearing, whether it's a ring, a bracelet, or a necklace. Birthstones have a lot of vibrance and sparkle, so they really pop in jewelry. But birthstones do more than just add color and elegance to your ensemble; they also give meaning to your personality. Birthstones add a personal touch to the piece, which is why they make great gifts for birthdays and other special events.
Shop
our
Mio Mio Birthstone Collection
now!