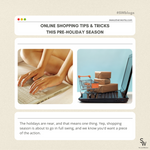 ONLINE SHOPPING TIPS & TRICKS THIS PRE-HOLIDAY SEASON
The holidays are near, and that means one thing. Yep, shopping season is about to go in full swing, and we know you'd want a piece of the action. There are holiday shoppers who prefer to go out and buy in-store and then those who like to shop online. Shopping online lets you enjoy convenience, the wide range of products, and scoring major deals especially available during the holidays. 
But, before you join the holiday shopping frenzy—why don't you check out some of our best tips and tricks for shopping online? These hacks are sure to make your whole online shopping experience more seamless, enjoyable, and practical. 
Hack #1: Make a list with your budget.
Prepare a list of the items you're looking to buy before you start browsing any shopping sites. Without a list, it's easy to get distracted. You could even end up buying a ton of items that's not on your list and cause you to exceed your budget.
Hack #2: Check for legit stores.
Purchase only at legitimate online stores, such as SilverWorks' Shopee Mall, LazMall, and the main website (https://www.silverworks.com/). Check for payment methods, contact details, and customer reviews if available. Another smart tip would be to look up the brand's social media presence and activity. Most legit companies often feature social media icons on their website so visitors can see if these actually link to a social media channel.
Hack #3: Check size charts carefully.
Always check sizing charts for items such as clothes, shoes, and some accessories. Buying wearables online can be quite tricky at times because you can't try the items on. Therefore, it would be wise to always refer to the store's size chart to help you know the proper fit and size to buy.
Hack #4: Check the Return/Refund Policy.
A savvy online shopper always checks the return/refund policy to avoid issues later on. Having a good return/refund policy also shows that the company stands by the quality of its products and services. SilverWorks has a no-frills 7-day return policy, which means you have seven (7) days after receiving your item to request a return for damaged or wrong items received.
Hack #5: Get a jump start on your holiday shopping.
Start early, and maybe even finish all of your holiday shopping early! Many stores begin offering great deals even before the holidays set in, so feel free to take advantage of those. 
Be on the lookout for the best promos and jump straight to those offers you're after. SilverWorks' Shopee & Lazada 11.11 promos start Thursday, but you can shop now for awesome deals on jewelry. 
If you order on Shopee during the 11.11 sale, you can enjoy free shipping (no minimum spend), buy items for as low as P11, and claim vouchers & discounts. 
For Lazada purchases, you can take 10% cashback, huge discounts, free shipping (minimum spend of P199), and even get a free Silver Polishing Cloth (minimum spend of P500 - silver items only). All terms and conditions apply.
So get organized, excited, and shop now to get ahead and save money. These deals are sure to get snapped up real quick!