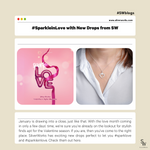 #SparkleinLove with New Drops from SW
January has come and gone, just like that. Love month is here, and we're sure you're already on the lookout for stylish finds apt for the Valentine season. If you are, then you've come to the right place. SilverWorks has exciting new drops perfect to let you #sparklove and #sparkleinlove. Check them out here: 
Heart designs are given during Valentine's, even throughout the year. If you've been a fan of the brand for quite some time, then you've seen different heart accessories, from ones with stones, paved styles, minimalist polished finishes, etc.
This year, we bring you something new: elegant and modern flat heart necklaces and bracelets that feature paperclip chains and a 0.1 karat diamond.  You read that right: diamond set in silver and gold-plated silver, featuring the trendy paperclip chain.
These pieces easily bring to mind designs from other high-end brands, but SilverWorks will let you cop them for just a fraction of the price. Yes, get something truly special, precious and on-trend without breaking the bank when you shop these pieces, and you'll really #sparkleinlove. 
We dropped our Fresh Drops last September as an online exclusive, which excited both our new and existing followers. Last January 11, we dropped a follow-up release in Fresh Drops: 2nd Drop, which consists of equally trendy, timeless and totally chic pieces. All in 925 sterling silver, the collection features both simple and edgy earrings and necklaces that are fashionably wearable. Shop them online and give your look a style refresh. 
Coming Soon: Swarovski Splendor
When you hear SilverWorks rings, you think, tungsten, silver bands, and stacked styles. This time around, we put the spotlight on rings with stunning Swarovski centerpieces. These feature genuine Swarovski crystals set in 925 sterling silver. Just pop on one of these rings for an instant touch of sparkly splendor to your looks. 
February is always an exciting time for us here at SilverWorks. With a peek of our recent and upcoming releases, we hope it will be for you, too.