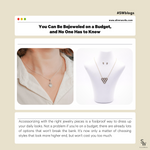 You Can Be Bejeweled on a Budget, and No One Has to Know
Accessorizing with the right jewelry pieces is a foolproof way to dress up your daily looks. Not a problem if you're on a budget; there are already lots of options that won't break the bank. It's now only a matter of choosing styles that look more higher end, but won't cost you too much. 
Here's a checklist of what you can look for to be bejeweled on a budget, with no one being able to tell. 
Lasting Shine 
Budget finds don't have to be subpar quality. Stainless jewelry pieces are a great example of this. Not only do they have a lasting shine to them; they're also rust and fade resistant. You can confidently rock your stainless accessories without having to worry about stains on your skin or discoloration on your pieces when wearing them. 
With plating, they can also come in a variety of elegant shades such as yellow and rose gold, or edgy ones like gunmetal. If you want the aesthetic without the expense, then you can't go wrong with stainless accessories. 
One Centerpiece Stone…
Bright  stones make great centerpieces for any jewelry item. For a sleek and chic feel, keep it simple with just one eye-catching gem, especially if you're rocking bigger jewelries. When pairing accessories, achieve a clean look by going monochromatic with hardware and stone colors. Pair gold with gold, clear stones with clear stones. 
…Or None At All 
If you want a crisp look, then keep it stylish with minimalist all-metal pieces. Basic shapes with subtle details and smooth finishes make you look effortlessly put-together. You may pile on these accessories, even in different colors, and just tie everything together with the same shape or size of pendant, charm, or chain. 
Classic Shapes and Symbols 
Wearability is key when it comes to copping a classy look, even on a budget. Basic geometric shapes are perfect for everyday wear, as they are always in style. They're also easy to pair with anything and everything, which is always great. 
You're set to make the whole place shimmer, even on a budget, when you choose the right jewelry and accessories. These are just a few points to help you do that. Then, you're ready to sparkle in style without breaking the bank.