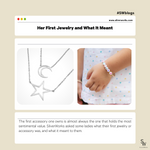 Her First Jewelry and What It Meant
Accessorizing is one of the first styling tricks that many women learned in their younger years. It's almost natural for little girls to fancy little trinkets, from macaroni necklaces, to beaded necklaces and bracelets, to hairclips, and in their teenage years, statement pieces made for prom, as well as everyday jewelry they can match with their uniform. Later on, these became pieces appropriate for work and many other life events. 
The first accessory one owns is almost always the one that holds the most sentimental value. SilverWorks asked some ladies what their first jewelry or accessory was, and what it meant to them. 
That Friendship Bracelet from Art Class 
"When I was in kindergarten, we made bracelets during one class to give away to one of our friends. I made one with colorful plastic beads and a letter "A", and knotted them on a string usually used for old-fashioned ID laces. I gave it to my seatmate who always shared her baon and crayons with me. She gave me a bracelet, too. I lost it, but I always remembered it. Wherever she is, I hope she's doing great." 
Those Small Earrings from Mom 
"My first jewelry was a pair of baby studs from mom, from when my ears were pierced. I kept them in a jewelry case and plan to pass them on to my future daughter. I'm sure it will make a great heirloom." 
Those Matching Rings With The Girls 
"At a time when matching with your besties was super popular, me and my girls got matching rings from a bazaar. We wanted the mood rings but they turned our skin green, so we got stainless ones instead. They were fancy-looking with stones on the center, and my friends and I loved them to death. I don't know who got to keep their rings, but we still keep in touch. One of us recently got engaged, so I'm looking forward to our reunion." 
That Necklace from My First Sweldo 
"This is not the first piece of jewelry I have ever gotten, but this, I got for myself. I've always been a fan of astrological symbols, so the moon necklace is perfect for me. I still wear it from time to time, especially on days when  I need that extra push to hustle hard." 
Beyond the sparkle it adds to one's everyday looks, jewelry holds a special place in one's heart. And, the first is surely one of the dearest. What's your first jewelry, and what did it mean to you? Share it with us.