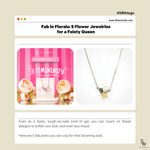 Fab in Florals: 5 Flower Jewelries for a Feisty Queen
Jewelries are a woman's fashion must-have. Throw them on, and they can change your entire vibe. Floral-themed accessories easily complement any aesthetic by lending a romantic, feminine touch to your getup. Even as a feisty, tough-as-nails kind of gal, you can count on flower designs to soften any look, and even any mood. 
Here are 5 fab picks you can cop for that blooming look. 
If you're hosting or speaking in a work-related function, keep your getup smart with sleek dresses and tailored pieces. Add a wispy, fairy core element to a business outfit with a pair of drop earrings. This balances a structured outfit by lending flow, movement and shine to your look. Not to mention, it complements a high bun or ponytail by framing your face. 
If you're partial to athleisure 'fits or slouchy lounge pieces that work well for your active lifestyle, dress up the relaxed look with a pair of low-key stud earrings. Studs are a practical accessory for when you're going for a jog or a bike ride; you almost forget that they're there. They sure are, and do they make your getup look a fair bit cuter.  
Keeping your days dotted with business meetings and going about the daily grind? The go-getting boss babe can certainly do with an elegant bling that makes a statement, without looking over the top. Rings are a great go-to, and the rose design is a tasteful touch. 
Leather or faux leather tops and bottoms and monochromatic band tees scream rocker chic. Break that strong getup a bit by incorporating romantic pieces. A necklace that lends a pop of color gives contrast to your look, without taking away from the rocker vibe. 
Skin-baring yet sophisticated? Achievable. Pair a dainty necklace with a low neckline to highlight those collarbones and take your look from bare to elegant. A classy neckpiece can make such a huge difference; try it for yourself. 
Inside of even the feistiest queens, is one sweet, strong and fabulous female. We rounded up 5 of our favorite flower-themed accessories from our
Her Femininity collection
. Celebrate your feminine side, in style.