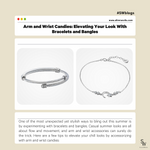 Arm and Wrist Candies: Elevating Your Look With Bracelets and Bangles
One of the most unexpected yet stylish ways to bling out this summer is by experimenting with bracelets and bangles. Casual summer looks are all about flow and movement, and arm and wrist accessories can surely do the trick. Here are a few tips to elevate your chill looks by accessorizing with arm and wrist candies: 
Go for Gloss
Up a jeans-and-tee combo with shades of gold and silver for your accessories. That clean girl look can have a bit more pizazz when you add in dainty bracelets that lend an elegant sparkle. Your tank top and shorts outfit combo can serve as a canvas for layers of bracelets and bangles, adding flair without looking too much. 
Armed and Ready
If you have open bangles or cuffs, take the term 'arm candy' in its literal and stylish sense. Wear those babies on your upper arm to create an edgy and ethereal look. Achieve the Grecian goddess vibe by pairing a gold arm cuff with a flowy white dress. If you want to go rocker chic, opt for a silver bangle, and pair it with a sleeveless black number. 
Charm with Charms 
Complete your girly-girl 'fits with charm bracelets that scream early 2000s It Girl. Pile on those wrist candies and enjoy swinging those arms and twirling around in a pretty frock or skirt. You can also use charm bracelets to add a dash of nostalgia to dressier looks, and take them from day to night. 
From Arm and Wrist to Ankle 
Wear bracelets as anklets? Why not? These are essentially trinkets which you may wear in a multitude of ways, however you want! Pair your anklet/bracelet with strappy sandals and flip flops for your beach getups, or rock them with sneakers for when running errands in style. 
Tried, Tested Textures
Simple doesn't have to mean plain. Bangles in the right textures and finishes are proof of this. Your smart-casual work outfits can go up a notch with interesting pieces such as twisted cord styles and sleek plain bars which you may opt to personalize. Put them on and get that extra sparkle on, easy. 
Shop SilverWorks' cool selection of arm and wrist candies. Wear them your way to instantly elevate any look this summer, and all year round.