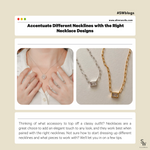 Accentuate Different Necklines with the Right Necklace Designs
Thinking of what accessory to top off a classy outfit? Necklaces are a great choice to add an elegant touch to any look, and they work best when paired with the right necklines. Not sure how to start dressing up different necklines and what pieces to work with? We'll let you in on a few tips. 
High Neck + Short Necklace with Pendant
If you're a fan of Korean dramas, take some cues from your favorite leading ladies by pairing high, round, collared or turtleneck tops with dainty necklaces. Use the fabric around the neck area as a canvas for a beautiful pendant. Whether you're going for a statement or dainty one, a short necklace that lets the pendant fall in line with your collarbones, takes the look from basic to smart and chic. Not to mention, it gives off a main character vibe. 
Deep V-neck + Opera Necklace 
V-necks are known for their elongating and slimming power by letting the wearer show off just the right amount of skin. Double down on the slender magic by popping on an opera necklace: long ones that fall on or below the chest. Adding length to the chest gives off the illusion of a longer neck and gives a little bit of drama to a simple neckline. 
Square Neck + Layers of Necklace 
Square necks are all the rage nowadays. Getting the Gen-Z seal of approval means you see it everywhere, and it's probably on its way to becoming a closet staple, and for good reason. Square necks are flattering and modest, and the shape is great for framing your chosen accessory. Layering necklaces with a feminine neckline adds a contemporary touch to the look, letting you go from sweet girl to stylish queen. 
If you're wondering what necklaces you can layer together, you may start with a choker, a la Cinderella, and layer with a long piece to add flow to the look. 
Sweetheart + Trendy Chain 
The sweetheart neckline is probably the dressiest one, what with the defined shape and silhouette that comes with it. Keep it crisp and clean by topping it off with a trendy paperclip chain necklace. Best to opt for a small pendant to let the trendy chain take center stage and frame that delicate decolletage. 
Jazz up different necklines with the right necklaces. You're sure to find a piece or two, or more, for you, at SilverWorks.
Shop our collection here.