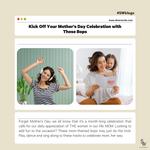 Kick Off Your Mother's Day Celebration with These Bops
Forget Mother's Day; we all know that it's a month-long celebration that calls for our daily appreciation of THE woman in our life: MOM. Looking to add fun to the occasion? These mom-themed bops may just do the trick. Play, dance and sing along to these tracks to celebrate mom, her way. 
Mother by Meghan Trainor
 "I am your mother. You listen to me." You better.
"Mother", now a Tiktok-viral hit, is a certified bop for fun-loving moms and their kids alike. Though not the "pull-the-heartstrings" kind of song, the fun beats and lyrics make it an instant LSS and favorite for reminding kids that mom is the boss, and a total vibe, too.
MAPA by SB19
"Labis pa sa labis ang 'yong ginagawa". 
Tagalog lyrics hit different , as you can hear in the SB19 hit, MAPA. Dedicated to parents, it's a fitting tribute song for both Mother's Day and Father's Day. Sing along with your siblings, and let all the feels out. For sure, mom will get a bit teary-eyed with this one. 
Pointless by Lewis Capaldi 
"She is the start of everything. And I'll be there till the end."
"I hope that she'll love me forever. She hopes I'll be back soon." 
At the first listen, this track is a love song through and through. But, when Lewis Capaldi dropped the music video, you know this one's perfect for MOM, too. Everything is indeed pointless without her love that strengthens and anchors us. Slow dance to this for one memorable moment with her. 
You'll Be In My Heart by Phil Collins/Usher 
"You'll be in my heart, no matter what they say. From this day on, now and forevermore." 
This classic got a modern reimagining when Usher performed the equally heartwarming RnB version. The bond between mother and child transcends time, and at times, even blood. Make mom's heart skip a beat by dedicating this song to her through an old-fashioned radio song request or a personal home video compilation. 
I Will Remember You by Ed Sheeran
"She was the starlight in darkness; she was the first bloom in spring. An angel with a smile like electric light, all the time hid her wings."
For your beloved mom in heaven, this Ed Sheeran track is perfect for an upbeat, yet heartrending, ode to her. And, yes, of course you will remember her. 
What tracks are you playing for your mother's day celebration? Share your picks, or better yet, play them for mom, and seal the moments with sweet hugs and kisses. Happy Mother's Day to the Spark of Our Life!