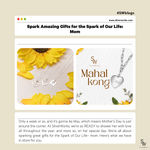 Spark Amazing Gifts for the Spark of Our Life: Mom 
Only a week or so, and it's gonna be May, which means Mother's Day is just around the corner. At SilverWorks, we're so READY to shower her with love all throughout the year, and more so, on her special day. We're all about sparking great gifts for the Spark of Our Life– mom. Here's what we have in store for you. 
When it comes to silver blings and pretty things, you know we got you covered. When it comes to cute and cool pieces you can gift your mom with, we got them all here, too. 'Mom' jewelry can be current, minimal and wearable. With the word written on these pieces, there's no mistaking who they're for, and it's obvious they're given with love. Check them out here. 
Heartfelt, Personalized Gifts
'Mom' is just a word without her– the woman that embodies motherhood. If you're on the look out for a one of a kind present for the occasion, we can personalize your chosen item for you. 
Merienda and Photo Treat
She keeps our hearts and bellies full. Mother's Day is the best time to do the same for her. Brighten up her day with a special gift pack from SilverWorks and Sunflower Crackers. A giveaway collaboration no one saw coming, we bonded over a shared love for sparking joy to those who receive our products, especially moms. This is your chance to greet and treat your mom to something special. Join our giveaway now!
Another unexpected brand collab especially for this Mother's Day is one with Great Image PH. Get a FREE Photo Session e-voucher when you visit and purchase from any of the SilverWorks participating branches. Bond over the photoshoot, and cherish a great memory that's surely for keeps. 
We love your mom as much as you do. This Mother's Day, you don't need to look further for amazing gifts for her. SilverWorks has got you, and your mom, too! Happy Mother's Day!