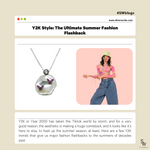 Y2K Style: The Ultimate Summer Fashion Flashback
Y2K or Year 2000 has taken the Tiktok world by storm, and for a very good reason: the aesthetic is making a huge comeback, and it looks like it's here to stay, to heat up the summer season, at least. Here are a few Y2K trends that give us major fashion flashbacks to the summers of decades past: 
Anything Butterfly
Butterfly accessories and prints on clothes were 'it' for the early 2000s main pop girls. From clips, to trinkets, to tops and dresses, butterflies bring all the young, wild and free vibes, while keeping it cute and feminine. Nowadays, celebrities including KPOP sensations and international solo acts can be seen rocking these on stage or off-duty. 
Low-rise and Flared Jeans 
The Britney and Christina era is when low-rise and flared jeans had their peak fashion moment. While the 2020s saw the resurgence of mom jeans, local celebrities are making a case for the low-rise and flared, rocking them on IG and during production numbers. Ripped versions are preferred by Gen Z-ers for their added edginess. 
Solid-colored Mini Sling Bags or Handbags
Mini bags or clutches in bright colors were the hot accessories of the early 2000s. They're cute and practical; fit in your phone, wallet and gloss in one  of those, and you're good to go. Many Y2K 'it' girls also accessorize with them for days and nights out, so plus points for versatility. 
Plaids
Black plaids were the go-to print for fans of the rocker chick aesthetic. Colored plaids, on the other hand, are perfect for the preppy style. Plaid on pleated skirts bring back that anime schoolgirl look that many 90's and 2000's teens love. 
Platform Shoes
Comfy and stylish, platform shoes and boots add an instant oomph to even the most basic getups. The 2010s saw them being styled with other Y2K staples such as pleated plaid skirts and flared jeans. Presently, they're mostly paired with travel outfits and mini dresses, skirts and shorts. 
Y2K fashion is serving fashion flashbacks perfect for the summer season. Which one's your favorite Y2K piece? Share it with us and get a chance to be featured on the blog.