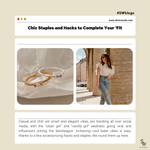 Chic Staples and Hacks to Complete Your 'Fit
'Fit check: the effortlessly chic look is all the rage these days. Casual and chill, yet smart and elegant vibes, are trending all over social media, with the "clean girl" and "vanilla girl" aesthetic going viral, and influencers joining the bandwagon. Achieving cool babe vibes is easy, thanks to a few accessorizing hacks and staples. We round them up here. 
Staple: Dainty Necklace
Showing off a little skin with a v-shaped or square neckline, and off-shoulder tops, lets you stay chic and comfy this summer. Keep it classy by adding in a dainty yet trendy necklace. The ones featuring small pendants and paper clip chains make great dupes for high-end jewelries, so adding one to your getup is a sure way to elevate your look. 
Hack: Neutral Color Story
A neutral or monochromatic outfit looks timeless and on point, no matter the season. It also makes for a good canvas for accessorizing, as the colors don't clash, keeping the getup polished and elegant. Invest in  white, nude, rose, black, gray and navy blue basics that you can wear all season.
Staple: Cute Crop Tops and Mom Jeans
Love it or hate it, the crop top-and-mom jeans outfit combo is here to stay. It's comfy and very gen-Z. If you're on the fence about getting either of the pieces just to hop on the trend, try tying longer tops or flannels to a cropped length to see how you like it. 
Hack: Snatched Waist w/ Oversized Tees
Snatch that waist with fitted bottoms and balance out the look with a flowy top. You can make it look laidback and loungey by tucking in an oversized tee or flannel. 
Staple: Edgy Earrings 
Earrings in classic hoop and stud styles can be edgy with the right details. Added texture and finishes in metals and materials used, plus strategically placed sparkles in unique shapes, can take a pair of earrings from classy basic to edgy and elegant. 
Score high on your 'fit check with staples and hacks that keep you cool, comfy and chic. Got any more to share? Let us know, and get a chance to be featured on the blog.