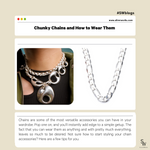 Chunky Chains and How to Wear Them
Chains are some of the most versatile accessories you can have in your wardrobe. Pop one on, and you'll instantly add edge to a simple getup. The fact that you can wear them as anything and with pretty much everything, leaves so much to be desired. Not sure how to start styling your chain accessories? Here are a few tips for you. 
Layer Different Lengths
If you're planning to sport them as neckpieces, layering is the way to go. Get the same type of chains at different lengths and wear them all together, arranging each from shortest to longest for a put-together look. If you want to experiment with different designs, you may want the shorter ones to be thicker, e.g., figaro, while the longest ones may be the thinnest, e.g.,cable chains. 
Wear One Chain Design As Multiple Accessories
For an effortlessly cohesive look, pick one chain design and wear it in multiple ways to tie your look together. If you have a couple of flat or mariner chain necklaces, some may work as bracelets, while others may be worn as belts. Chains are typically used as accents, so it's easier to play around with them, without going over-the-top. So, take advantage of them and get creative in styling your pieces. 
Keep the Focus On the Statement Piece
Feeling extra? Accessorize with an extra chunky piece, and accessorize it with thinner, more minimalist styles like box or snake chains. The thin ones serve as guiding lines to direct the eyes to your chosen statement accessory. Wear over a simple plain jeans and tee combo to make your jewelry pop and keep the elements balanced. 
Change It Up With Charms 
Go ahead and add statement charms to your chunky chains to change up your overall look. Charms add that Y2K element, edge and movement to your ensemble. Chuck them on for pops of color and texture that instantly brighten up your getup. Don't be afraid to go a little crazy with piling on the chains and charms; that's part of the retro maximalist magic. Go big, bold and bright. 
These are just a few ways you may try wearing chunky chains. Inspired to pile them on for your next #OOTD? Then get shopping at SilverWorks, and rock them chains in no time.