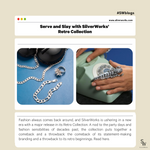 Serve and Slay with SilverWorks' Retro Collection
If you're in the late teens-early twenties age bracket, you may or may not know that SilverWorks has been around for over 30 years. Ask your older siblings, aunts, uncles and parents, and they're sure to have a vivid memory or two about the brand's earlier days, especially its edgier, more colorful era in the early 90s and 2000s.
Fashion always comes back around, and SilverWorks is ushering in a new era with a major release in its Retro Collection. A nod to the party days and fashion sensibilities of decades past, the collection puts together a comeback and a throwback: the comeback of its statement-making branding and a throwback to its retro beginnings. 
Says the brand's CEO, Louie Gutierrez, of the release, "The pieces came straight from our treasure trove of quirky statement jewelry. While they may have come from decades ago, they're certainly not from a bygone era. Bumabalik-balik ang uso, and popular styles from the past are making a comeback to the present. It won't be surprising that we see them shaping the future." 
From the looks of it, retro is here to stay, and SilverWorks is here to make sure you slay it. Check the collection here. Watch our video and spot your faves.