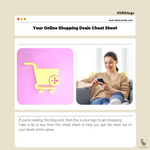 Your Online Shopping Deals Cheat Sheet
If you're big on online shopping and package deliveries make your entire day, we totally get you. Tapping on the add-to-cart and checkout buttons gives an exciting high: it's about treating yourself after a hard day's or month's (or even MORE) worth of work. Knowing you deserve it makes the feeling even more exhilarating. 
Knowing YOU DESERVE IT also means you have to MAKE THE MOST OF IT. When it comes to deals, you know SilverWorks has got you. And, when it comes to deal hunting, we also got you. Here's a cheat sheet to help you shop till you drop without breaking the bank. 
Mind the Date 
Much like how it is in physical retail stores, there are certain dates to watch out for when it comes to sitewide or brandwide sale promotions. Fan of the leading e-commerce apps? Then stay tuned for price drops during double digit dates. The middle and end of each month are also dates to watch out for when you're eyeing deals for bigger purchases. 
Plan the Purchase
Yes, deals left and right for the things you didn't think you wanted or needed can be very tempting to shop all at once. It doesn't mean you should. Indulge on one big purchase you're sure you want and can get a lot of use out of. Have a list of items you want to score for a particular promo date, and cash in just enough to cover them. Leaving little to no room for impulse buys lets you shop smartly and helps you avoid going over budget. 
Wait Before Checkout
Don't let the excitement get to you, so much so that you automatically hit checkout upon filling your cart. Take a brief pause to check for app and store vouchers that can save you a pretty penny, especially on shipping fees. You may also opt to check out one at a time to enjoy the vouchers you have collected, as most apps don't allow stacking discounts anymore. 
Join 'Budol' Groups
Targeting your next 'budol', but not sure if it'll be worth the hype or money? Already scoured product and vendor reviews, but have yet to see any that actually helps? Hear it from those who have been budol-ed before you by joining 'budol' groups. 
These online communities have tons of reviews about anything you can buy off of the internet. The best part is you can interact with the reviewer to ask for more details and check the comments section to see if a majority of members agree with the insight. It's a good place to get insights before checkout. 
Scour the App
The app is designed to push its users to purchase, so there are discounts no matter the occasion. Keep your eyes peeled for pop-ups every time you run the app–they're usually prompts for you to collect vouchers. Also, rate your purchases to accumulate points and coins that you can use for more discounts. Following their socials and group chats also lets you in on secret codes and deals. 
If you're reading this blog post, then this is your sign to get shopping. Take a tip or two from this cheat sheet to help you get the most out of your latest online spree.