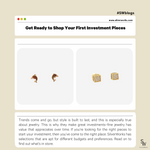 Get Ready to Shop Your First Investment Pieces
Ah, adulting. A time to get your game together in pretty much all aspects of your life. At work and in your personal life, it's time to make power moves. Big moves start with small, intentional steps. And, you can take a few towards more refined and sustainable choices when it comes to style. 
Trends come and go, but style is built to last, and this is especially true about jewelry. This is why they make great investments–fine jewelry has value that appreciates over time. If you're looking for the right pieces to start your investment, then you've come to the right place. SilverWorks has selections that are apt for different budgets and preferences. Read on to find out what's in store. 
Silver Starters
Kick off your investment slowly but surely by shifting from fancy jewelry to those made of precious metals. Silver pieces are a great way to start. A notch above your usual plated pieces, silver jewelry holds value and has a sleek elegance to it. Shiny, weighty without being over the top, silver is a great way to follow trends and level up your jewelry choices. 
The silver sheen is versatile and goes well with a lot of outfit hues and skin tones. The metal itself complements various other materials and finishes, so silver jewelries are anything but plain and boring. 
Glam in Gems 
Whether or not you're a fan of colors, gemstone jewelry is a fashionable way to update and upgrade your wardrobe. If sapphires, emeralds and diamonds seem way above budget, check your trusted jewelry shops for semi-precious alternatives. 
You may also go for lab-grown stones, like cubic zirconia, that are just as stunning and less intimidating for everyday wear. They're a great way for you to level up your accessories and get used to wearing something with value.
Carat Chic
The 14K gold is your first step towards curating a gold jewelry collection. Consisting of 58.5% gold and 41.5% alloy, it has the ideal combination of shine and durability, making it a popular choice for wedding and engagement rings. If you're big on getting yourself a promise ring or any type of symbolic jewelry, a 14K option makes for a great upgrade.  
The key to a steady and stylish jewelry collection level up  is to keep an eye out for timeless designs and valuable materials. SilverWorks has both, so best believe we got you covered. Follow us and find your first investment pieces from our extensive selections.